Microwave khandvi came first.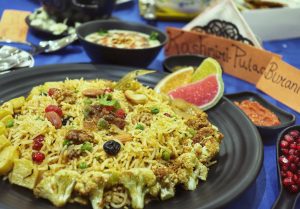 Sheer and Kashmiri Pulao came second.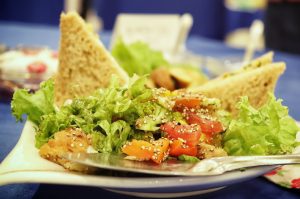 Shan - e - health Quinoa salad and triple layered Sandwich, came third.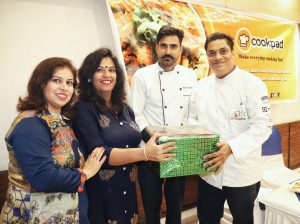 1st Winner - Anu Khattar.
2nd winner - Dr Swati Verma.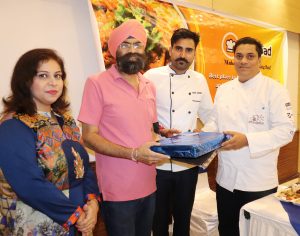 3rd winner - Harminder Singh.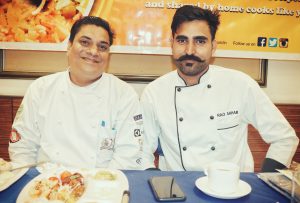 Chef Shailender Singh and Chef Deepak Rao.
Chef Shailender Singh and Chef Deepak Rao judging the contest.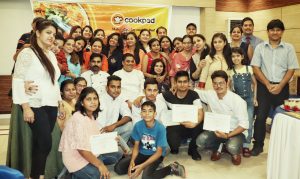 Cookpad team, judges and participants.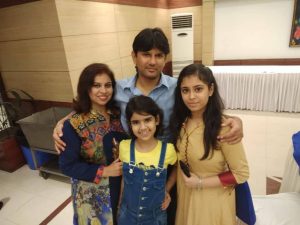 Organisor - Avni Arora (Left) along with her family at the Cookpad India event.
Before we begin with the event which was organised by Cookpad India, I would like our readers to know what it is all about. Cookpad is world's largest recipe sharing platform which is on a mission to improve people's lives by making daily cooking enjoyable. In the year 2014, it went global. By now on an average, 100 million people round the world use Cookpad every month and over 4 million recipes have been created on the same. Cookpad is available in almost 70 countries round the globe, covering 23 international languages. It primarily helps people to look up those recipes which are very simple and have been personally tried at their home kitchens. Cookpad is constantly striving to make every day cooking done more easily. It gives access to positively delectable home-cooked meals. Cookpad believes in the power of community which came to India in the year 2016. It organizes get-togethers for home chefs in various food events where they can showcase their cooking talents and also learn something new from industry experts. The activity focuses on bringing people together and encourages them to cook more at home.
One day I called the community manager of cookpad India about the coverage of a
cooking event which was going to be held in Chandigarh by them. Firstly, I asked
about the event which was mandatory. Secondly, I asked few things about her
interest and passion of cooking in her personal life, she was very enthusiastic
and was so proud to be associated with this community that, I personally felt good from her positive attitude and dedication towards the work which she has chosen for herself. Avni Arora, born, brought up and married in Chandigarh says that, cooking was always a passion for her. When she was a teenager she participated in several cooking competitions. Later, with growing interest she even started taking cooking classes to enhance her skills; around four years back Ms. Ruchi Srivastava who used to run a group on a social networking site contacted Avni with her rising interest in cooking, left a note for her to be a part of her group named "Rasoi Ka Swaad", where there were 20,000 members, which grew up to 4 lakhs. Ruchi even made Avni the admin to that group. She even introduced her to cookpad community India, since then they hold a wonderful relationship amongst themselves. She joined Cookpad last year on Aug 1, 2017 as a Community Manager. Further she successfully organised events at Mohali, CGC Landran, Dehradun, Delhi and now in Chandigarh. Avni Arora was thankful to Mr Shriniwas Mutnure (Head of Cookpad India), for all the respect she received from their end.
This was all about Cookpad Community India. Let us now move towards the event which took place at Hotel Chandigarh Beckons on 23rd. September, 2018. The name of that event was Chandigarh Food Fiesta organised by Cookpad India. Fifty people participated in the same from various backgrounds, which includes hotel management students, professional chefs, housewives and those who were expertise in vegetarian cooking. Most of them had participated in cooking contests and also won as well. The participants brought the dishes from home and presented them at room temperature as per the conditions of the contest. The dishes ranged from ethnic cuisines to concoctions of popular veg recipes. Chef Shailender Singh and Chef Deepak Rao judged the contest. They both are the assistant professors at a college of hotel management called Chandigarh Group of Colleges - Landran. They both possess master's degree in their field and have worked with hotels of good reputation. Cookpad India organized this event to celebrate the spirit of home cooking with the residents of Chandigarh. Chef Shailender Singh and Chef Deepak Rao from Chandigarh Group of Colleges interacted and taught the art of plating with Cookpad community members on the event day.
Let us know who were the winners at Chandigarh Food Fiesta organised by Cookpad India, along with their tantalising recipe submission:
1st Winner - Anu Khattar - Microwave khandvi,
2nd winner - Dr Swati Verma - Sheer and Kashmiri Pulao,
3rd winner - Harminder Singh – Shan - e - health Quinoa salad and triple layered
Sandwich,
4th winner - Navneet Kaur Dixit - Sarso ka Saag & Makki ki Roti (Most
mandatory to be in Punjab or in the nearby regions - I giggled).
Indeed, hard work and dedication pays. Everyone did really well and received what they deserved. Rest of the participants were honoured with the participation certificates. Last but not the least Avni Arora the Community Manager of Cookpad India on behalf of the entire team would like to thank; Ms Shweta Shetty, Ms Roli Srivastava & Ms Ayushi, the team at the head office for their valuable support.
INTERVIEWED: Community Manager Avni Arora
INTERVIEW TAKEN BY: Khatibah Rehmat
PICTURE COURTESY: Community Manager Avni Arora
NAME OF THE EVENT: Chandigarh Food Fiesta organised by Cookpad India.