Greatness occurs from small doings, bigger is always a reward. Yes, I am speaking about two great chefs, both by heart and by profession, executive chefs, Chef Ajay Sood - former executive chef of Taj SATS air catering and executive chef of Rahul's Kitchen, Dehradoon - executive chef Rahul Wali. What they are today is not just how hard they worked but, how beautifully they performed in their lives. On the auspicious occasion of Mother's day - 2019, these two great culinary personalities were found judging a cooking competition at Delhi Public School - Dehradun as their special guests, where they were honourably invited by their senior teacher - Mrs. Nazish Salman.
Senior teacher Mrs. Nazish Salman addressing Students, staffs and the guests during mother's day celebration.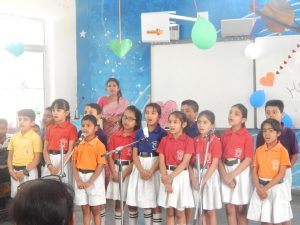 Students singing the welcome song "Tu kitni bholi hai MAA", for all mothers present at the event.
The event was organised at the school campus on 9th. of May, 2019, where mothers of classes nursery to class three brought their cooked food and showed their cooking talents in front of such great personas. Though, mothers do not fear anybody in entire world but, here they showed their utmost talents in front of those who very easily bring skin out of hairs. After speaking to Chef Ajay Sood and Chef Rahul Wali, they told us how happy they were, seeing such ladies who came up with no fear but, with a pinch of nervousness. May be a woman may not fit herself into the kitchen always but, in case of being into motherhood it is totally different. She believes in feeding more and more and sometimes people even puke to that extent. When it comes to serve her family, husband or children, she becomes a home cook which none can manage, even a professional, at several times!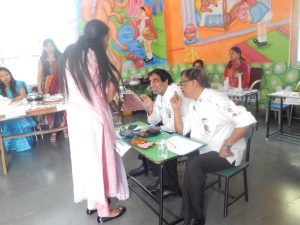 A participant presenting her dish to both the executive chefs, Chef Ajay Sood and Chef Rahul Wali.
Another participant presenting her dish to both the executive chefs, Chef Ajay Sood and Chef Rahul Wali.
Well, Delhi Public School-Dehradoon, took good care of such immense feelings of those mothers whose young ones are grabbing education from here. They organised a cooking competition amongst those mothers whose children were studying in standards nursery to class third. Mrs. Nazish Salman, the senior teacher at DPS-Dehradun was so keen and serious about the event that she managed to turn this event into great success, of course with the help of her team members of staff and students. Executive chefs, Chef Ajay Sood and Chef Rahul Wali, understood the need of the hour and judged the entire event where, ladies brought cooked food from their homes and they finally divided their skills into Gold, Silver and Bronze positions. They loved the way these ladies came up with utmost confidence, despite of being un-professionals and came up with multiple cuisines such as Bengali, Punjabi, South Indian, Mughlia, Continental and even with the desserts.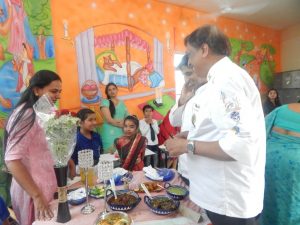 Both the chefs speaking about the dishes which was prepared by the mothers present at the event.
Chefs even gave them several hints, that how they can improvise themselves and also guided them not to let their skills be confined into home kitchens. They shall explore with new ideas and how they can become entrepreneurs in this field, which will always give them a market to work with. Both, Delhi Public School and the chefs were happy with each other's hospitality, love, care and respect. Last but not the least, as this event was kept to honour mothers, people of other schools of rest of India should also take the initiative to bring them up to the forefront and like both the executive chefs, Chef Ajay Sood and Chef Rahul Wali did to uplift their hidden talents and skills, they shall also do the same. Every school must keep a visionary teacher like Mrs. Nazish Salman, so that they may think differently at all aspects especially for those ladies who somewhere get less in life to do.
INTERVIEW TAKEN BY: Khatibah Rehmat
INTERVIEWED: Mrs. Nazish Salman, Executive Chefs Ajay Sood and Rahul Wali.
PICTURE COURTESY: Mrs. Nazish Salman.