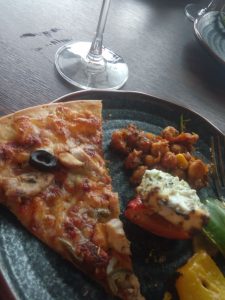 Thin-crust chicken pizza.
Executive Chef Naveen Panwar is the man behind the opening of this place called Beer Castle at SCO-365, Sector 8, Panchkula. The food over here is very delicious and finger licking. Each and every dish is being cooked and is continuously being tasted and examined by the experts since last one month, so that not a single mistake could be checked by the guest counts during the opening on the 3rd. of May, 2019.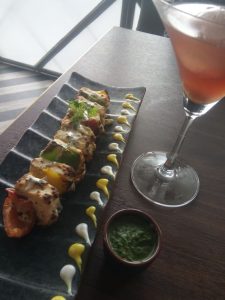 The roasted white paneer.
The regular butter chicken, daal makhani, paneer butter masala are few names of those Indian main courses which were being served with a twist in their tastes. What was the difference? That I won't let you know, if you really need a finger licking food, then you have to take pain yourself and visit this wonderful restaurant from 3rd. day of May, 2019- 11am onwards daily. I tasted many types of breads but, the most challenging one was the green chilli parathas. At first I was not even trying its single bite but, Chef Naveen insisted me to make a try. I did! Oh, I really did! My heart literally jumped with joy. It was such a cool chilli which enhanced the flavours of the parathas when came in contact with the concern cuisine.
This was something really new, a liquid chaat.
This restaurant has four sections all in all by now: It has a basement floor where families, friends and relatives can organise a musical party for themselves. The interior has a class; each and every sofas, tables, floor, ceiling, etc. were narrating its own story. Colour and arrangements I won't disclose, you visit and praise me later for a class based surrounding.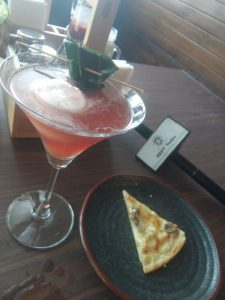 A must try Paan mock tail with round ice into it.
Lets move towards its ground floor where people may see a live show of their favourite drinks, from fresh fruit mock tails to syrup mock tails everything was available over there, you simply have to speak up your choice to them. In this area people could entre from the main road side entrance to get a wide glimpse of the real royalty in the city of discipline and decorum. Two sets of selfie chairs were also placed over there which were narrating a different story for every individual, many other things were also there to feel the essence, once again I will say, do visit this place!
Strawberry, water melon and mint crusher.
There was a connecting staircase to the first floor where a lavish dining area could be seen. The copper finish work all over, with star chandelier and its reflection on two mirror-wood walls were literally complementing each other like anything. Families could come and dine in over here for experiencing a wonderful food whether lunch or dinner. Remember 3rd.of May, 2019, 11am onwards- daily, this restaurant will be serving you day and night.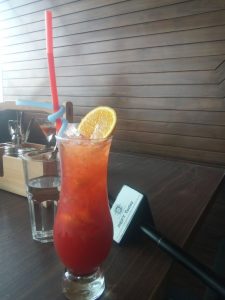 Orange crusher.
Then Executive Chef Naveen Panwar took me to the sky-lounge, which was built up on the 3rd. floor of the same property's terrace. There is a proverb which says: turn the town red, but here it was like, they turned the town ****n. Now, my dear foodie friends you go and solve this simple riddle. I am sure you will love its semi interior-exterior combination!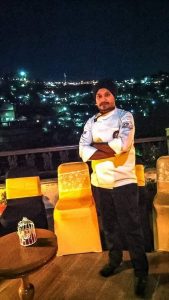 Chef Shailendra Singh.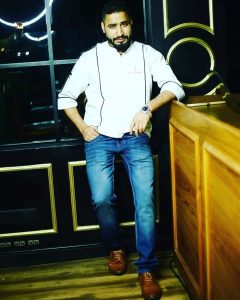 Executive Chef Sunil Rawat.
Food tasting with the Chefs: Executive chef Sunil Rawat (front), Khatibah Rehmat - Senior Journalist and Writer for Food, REFT Today (Right), Three Indian chefs with Chef cap, Executive Chef Naveen Panwar (Middle) and Chef Shailendra Singh (Left-without a chef coat).
Well, several young food bloggers came to cover the food story of this place and not only this, Executive Chef Sunil Rawat and Chef Shailendra Singh were also seen there to uplift the confidence of this enthusiastic chef cum friend of them, chef Naveen Panwar at the pre-launch of the restaurant. We all sat together at one of the dining tables and tasted maximum number of cuisines as per the space in our stomaches. Last but not the least, I shall say that Mr. Arun Goyal, the Managing Director and businessman of Chandigarh has come up with a lovely concept in tri-city, Panchkula.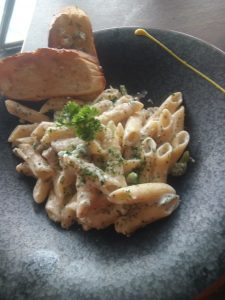 White Sauce pasta with garlic bread.
Interviewed: Executive Chef Naveen Panwar.
Interview Taken by: Khatibah Rehmat- Senior Journalist and Writer-REFT Today.
Picture Courtesy: Team- REFT Today and Facebook.