Everyone knows Corporate Chef Akshat Parihar by now! He has been a well known figure amongst food and beverages industry in India and several parts of the world. A man who never takes all credit alone, but always shares his success with his team mates, believing that whatever he is today, most of the time they have helped him to the fullest. If he has spent endless un-slept nights for umpteenth projects, then there was his team as well who never tried to take a single nap during day or night of work. Akshat added that for a successful career, there is always a supportive team behind it, who runs their own booming story to the world front.
Mr. Cafe Store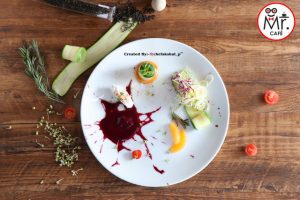 A dish prepared by corporate chef Akshat Parihar.
A dish prepared by corporate chef Akshat Parihar.
After all that the main thing that came into being was, his passion towards work which kept on sparkling into his heart, body and soul. For him, it always used to be a moment of pride and courage, being a corporate chef for brands like Captain Egg and Mr. Cafe and making sure that, all their sub-brands and restaurants running under his charge shall go on well and smooth without having any obstacle in between. The young and dynamic corporate chef, Chef Akshat Parihar believes in moving along with his team happily in all his projects, whether being in India or abroad. He says that if the team is happy, the work will be at a greater level of success.
Let us know a bit about the recent activities of corporate chef Akshat Parihar:
a) He has worked upon the Oriental infused and a full range of multi cuisine menu done for OVC, Chefs Speciality Section in Celebrity X Cruises, by Royal Caribbean International in Miami-Florida- USA.
b) Being associated with Seazen-Melenzane and working on a wide range of authentic Italian and Arabic fused menus for the brand in Kuwait.
c) Designed the signature menu for 41 degree WS Grille in Doha-Qatar.
d) Mr. Cafe is a multi cuisine restaurant in India, which came with a concept of bar and food menu and was designed for smooth soft launch by chef Akshat Parihar. Menu was loved and tasted by the star cast of a national television channel. Few, must try signature dishes prepared exclusively by chef were Gulabjamun Tiramisu, Beetroot Sprout Patch. He added that while he was working upon the menu of Mr. Cafe, then his main aim was to hold the guests by some extraordinarily different taste and texture of the food as well as of the beverages.
e) Chef Akshat Parihar has also designed his family restaurant with the name of Aroma, which is a fine dinning multi cuisine restaurant in Kota- Rajasthan.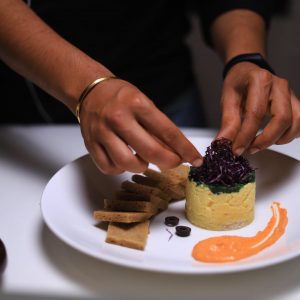 A dish prepared by corporate chef Akshat Parihar.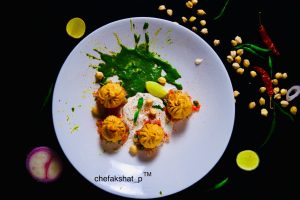 A dish prepared by corporate chef Akshat Parihar.
f) Akshat has done a lot, for a venture called Captain Egg and by now he has worked upon it's several franchises in India and stepped towards it's exclusive store in Katmandu-Nepal. He has two Captain Egg outlets in Surat, one in Vadodara, one in Bangalore and an opening shortly store in Katmandu-Nepal. When he designs a menu in any state or country, then he takes care of maintaining their local tastes but, at the mean while it is presented in a twisted as well as in a creative way. Here, at Captain Egg Chef Akshat has designed few separate signature dishes for their menus. Here they are:
1) Tenderloin Guacamole stuffed avocado with water chestnut and;
2) Muscular Crunch Berry glazed marshmallow and roasted coffee beans with caramel dust.
Now, he is focussing more upon the upcoming Katmandu-Nepal venture, where there will be approximately 150+pax casual dinning concept with a fusion of local delicacy and chef's specially customised inputs and the finest use of fresh ingredients, specially found as a blessing by the chilling atmosphere of Nepal.
To know more about this particular upcoming outlet, one must go and visit this place and if you want to know more about Corporate Chef Akshat Parihar then you may follow him on instagram: @chefakshat_p and on Facebook: Akshat Parihar
Interviewed: Chef Akshat Parihar
Interview Taken by: Khatibah Rehmat
Picture Courtesy: Chef Akshat Parihar.