Chef Harpal Singh Sokhi
Chef Kunal Kapur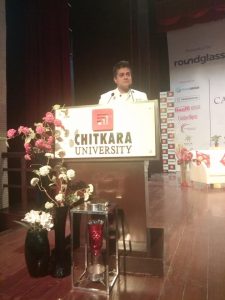 Chef Sabyasachi Gorai AKA Chef Saby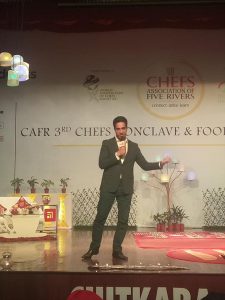 Motivational Speaker Simarjeet Singh
From Right to Left: Chef Sanjiv Verma; Chef Vishwadeep Bali;
Masterchef Kunal Kapur and Varindar Singh Rana.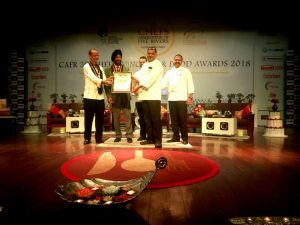 Executive Chef Ranvijay Singh grabbing the awards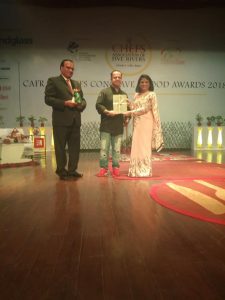 Chef Vicky Ratnani being facilitated by the Vice Chancellor of Chitkara University.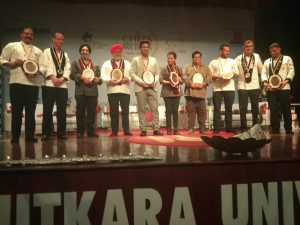 Core chefs being facilitated.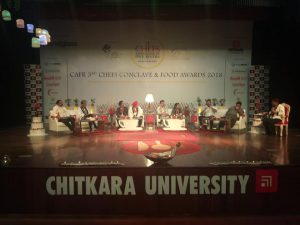 A talk on Punjabi food and it's origin.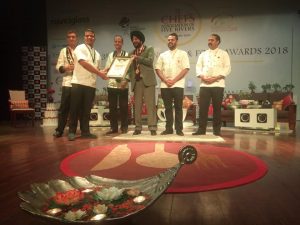 Chef Kishan Hari being awarded for the best fine dining restaurant in Chandigarh.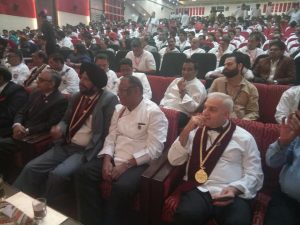 Chef Anil Grover and Chef Altamsh Patel has been seen in this event.
....and a roar thrilled the auditorium, white coats were that loud. The line was unending with different people, one by one a panel of chefs were coming up and addressing the audience. Lights, camera, action everything was there. Hard work of big and experienced people were making them more bigger. A pin drop silence was also found when eminent speakers were addressing. Television famed chefs even shared the bench with fellow companions. Huge round of applauds were making eminents more zestful. Chefs are chefs, Vicky Ratnani said, no one is a celebrity as such, they all cook, just are seen on different platforms, some are more visible to the world and some are less or isolated. Cooking is a platform which bring white coats together and make them feel very similar. Vicky Ratnani spoke about his patience towards being into this industry of food, commi is level where people mostly quit this beautiful job. To grab a growth in life, patience is the actual key, he added.
Chef Kunal Kapur was also one of the speakers, he narrated his journey of college and told what happened when the day of placement came where he was amongst those five selected students out of 250. Ah! He was one of those five, he heaved. Kunal even told a small story when he chose to bake for the live interview round. His lady trainer asked him, how will he manage with the dough as he has to be present over here by 11 in the morning? The little boy Kunal said with great relaxation that, he will come as early as 6am, will dough the flour and bake breads by 11am and present it to the interviewer, this was his plan! She was like fine and a bit satisfied with his confidence. As Kunal was about to leave the Taj bakery a senior chef entered there and stopped him and asked immediately go to the live counter and prepare the pasta. He was puzzled and said PASTA? Scribbling his hairs, it was not as commons as it is now. Still moving towards the conversation, Kunal tried a lot to convince the chef that he is not an official chef over here and he is just a boy who has come for the next round of interview. He will be back tomorrow to do with his dough, the chef said fine but right now come to the live counter as some guests are coming and all night shift boys have not come yet, he needed more helping hands. Chef showed some boiled pastas to Kunal, one the bow shaped another one was the swirl, there was a red sauce and a white sauce. He just had to mix them together according to the guests. Salt and other spices are already there, the senior chef added. So Kunal kept on repeating the entire process till the sun rise. When that lady returned next morning she saw Kunal on the live pasta counter, she obviously asked him what is he doing over here? Kunal narrated her the entire story, she laughed like anything. Finally, he went through the interview and all. Then he realised that he didn't sleep since last morning and was there for more than 28 hours. The motive of telling this story was that, hard work and a clean heart actually pays what I believe.
Kunal even told about Chef Vinod Polka who was his teacher at IHM-Chandigarh and was present in that CAFR conclave, who used to scold him for not making so much varieties of food, as Kunal was convicted that the food he was preparing was for his personal greed and craving for eating. But, everytime he used to deny that it was his passion for cooking but Chef Polka never used to trust him. Chef Vinod Polka was present over there and they both laughed for the same, remembering it today, in fact the audience even joint laughing over their memory. The entire auditorium once again went into joy with Kunal Kapur's inspirational one to all talk, lastly he said that young chefs must keep a lot of patience in them if they really have to succeed in life because, being a commi at level 1, 2 or 3 is like being a football of the senior chefs, one will call you here and another one will call you there. This was a very big lesson given by Masterchef Kunal Kapur at the CAFR-Conclave, 2018.
Let us move towards the man who has been holding the Indian food federation to world front, the president of Indian Federation of Culinary Association, award winner for so many categories on topic: Food with different aspect all the time. A gem, a mentor for so many white coat holders, known as official chefs. The best part in this man is that he believes in making chefs associations and work more on uplifting them at another lever. More of thinking and working as a whole not just focusing and becoming famous amongst himself. Everytime he is into someone else's carrier upliftment, a man who is also known as the Amitabh Bachchan of culinary industry in India and for Indians outside India. Yes! The turban hero, Chef Manjit Gill, with absolutely clean heart. That is why, what I believe he has been granted directly from the Lord in the heaven. In numbers he is know to be an old man, but when it comes for cooking and things related to food or culinary industry then, he is not less than a fast running horse. I must say that the young guns should meet him at least once and take one class to begin with their carriers. Chef Manjit Gill has a never ending zeal, he believes in moving forward with an aim of keeping the Indian culinary association at the top of the world. He is so famous but, very simple and sober, still speaks like a true Sardar ji (whole hearted), not even a pinch of show offs. His daughter is never the less, she has kept his father into several universal appreciations for her little vanity of authentic Punjabi Cuisines. She is amongst those people in India who serve the actual Punjabi food at their restaurant. Curry Singh Kitchen is like that, which is run and owned by a devout born chef Reetika Gill in Gurgaon now Gurugram. As father as daughter, as humble and as cruel over bad food from experienced people I believe (I smiled within me). Their passion speaks and is shown in their lifestyle and on face both. Ritika Gill was also a part of the conclave which was held on 15th. of September, 2018 at Chitkara University by Chef's Association of Five Rivers, a national conference on food.
The President of CAFR-Chef Tej K. Razdan, Chef Sanjiv Verma - The Vice President of CAFR, Chef Vishvadeep Bali, Chef Varinder Singh Rana, Chef Nellu Kaura, Chef Naveen Panwar, Chef Vinod Polka, Chef Vishal Handa who gave their days and nights to make this event a huge success. There hard work was very much visible over there. Someone has truly said that the journey of thousand miles begins with a single step. This journey which Chef Sanjiv Verma, Chef Vishwadeep Bali and Chef Varinder Singh Rana began was very beautifully executed. Chef Sanjiv Verma has many pins in his collar of chef's coat, he runs a buffet restaurant in a famous shopping mall in Chandigarh and a dining restaurant with same name in sector 34-Pashtun. Chef Vishvadeep Bali has done almost 1000 caterings by now, means 1000 or more? It's never the less within oneself by the way. Stand up and salute for this chap who even anchors several television shows and also shares the stages for in numerous food events. Most of the time his companion is another great chef, Chef Varindar Singh Rana. They both even shared the stage on this conclave as well and brought life to the entire event. Chef Sabyasachi Gorai also known as Chef Saby was also present over there. Chef Harangad Singh, Chef Anil Grover, Chef Ajay Sood, Chef Bali, Chef Rahul Wali, Chef Sanjay Thakur, Chef Dev, Chef Altamash Patel, Chef Rajan Bedi, Chef Gunjan and many more, most eminent chefs were gathered over there at the conclave (Apologies if I missed some names).
The sensation has not ended over here, Chef Harpal Singh Sokhi of Namak Shamak fame was also there. He shared the stage for ten minutes and started his stop watch so that he may not speak for very long as he is very talkative and none can stop him (he laughed and the entire audience present over there laughed upon his gestures). Chef Harpal was not that happy with television, as people don't watch it for long hours these days. They are more into internet, they pay for the subscription like Americans do and can watch anything, anytime. He added that when somebody asks him to shoot his show, then he does not believe in going much with the television shows, he shoots the entire show in his kitchen studio with his team and broadcast it on famous you tube channel. People are die heart fan of his recipes, no doubt at all.
Let us move towards the last phase of the event, most awaited ones-The awards. Heartbeat of the white coats went up and down, who will get what? Many categories were there, bakery, restaurants, hotels, chefs, baker, fine-dinings, bloggers etc, etc. Chef Kishan Hari the Executive Chef of Virgin Courtyard, grabbed the award for best fine dining restaurants in Chandigarh. It is placed in sector 7, which is one of it's own kind and is a very beautiful roof top restaurant. I still remember when I took Chef Kishan Hari's interview somewhere around three years back. He is still working with Virgin Courtyard and it sounds so great when a chef is that stable with his work. My due respect to such stand still people who are becoming wonderful examples to the society of entire culinary industry. There were many other awards but, I shall compile it with the Executive Chef of Taj Chandigarh who was awarded with the best fine dining restaurant at Taj-Chandigarh, The black lotus along with Virgin Courtyard, jury choice gold award. He even bagged the biggest one of the day, Chef of the year award-popular choice. I shall brief you a bit about great chef Ranvijay Singh, who is working with one of the hotel's in Chandigarh who are also known to be the pioneers in the hospitality industry in India-The Taj group of Hotels, Resorts and Palaces. Ranvijay is into this industry since last 17 years, where students just leave at the level of commi 1,2 or 3 just because they want to become an Executive Chef overnight. Which is actually impossible even if ones father runs a hotel or a lavish restaurant. They will love you but won't grant you with the toys from which you can never handle to play with. Well, this chef who didn't even remember how many dips, salsas and mayonese he has invented in his beautiful culinary career has given his days and nights to become a blooming bud into this industry. As every sensible person Chef Ranvijay also believes in keeping patience and putting immense hard work.
Special Coverage: Conclave and Awards of Chef's Association of Five Rivers.
Article Written by: Khatibah Rehmat-Senior International Journalist.
Picture Courtesy: Khatibah Rehmat.
#chefmanjeetgill
#cheftejrazdan
#chefsanjivverma
#chefvishwadeepbali
#chefvarindarsinghrana
#chefnellukaura
#ChefSabyasachiGorai
#ChefSaby
#ChefHarangadSingh,
#ChefAnilGrover,
#ChefAjaySood,
#ChefBali,
#ChefRahulWali,
#ChefSanjayThakur,
#ChefDev,
#ChefAltamshPatel,
#ChefRajanBedi,
#ChefGunjan
#chefranvijaysingh
#chefkishanhari
#chefvickyratnani
#chefkunalkapur
#Chefreetikagill
#chandigarhfoodawards
#chandigarh
#chefassociationoffiverivers
#foodawards2018