Choosing kitchen as his main department amongst so many streams during his hotel management's four years tenure, was very much clear from Chef Rizwan's end. Like other parents, his parents were also wanting him to become an engineer but, he blindly ended with hotel management. After years of diligence, now Chef Rizwan Yargatti has got the answer for everybody's questions and i.e. being a chef is not simply a job but, is a lifestyle! He praises to all the celebrity chefs who brought glamour to this industry and inspired the new generation. Despite of all this one has to drench in their own sweat everyday to achieve this goal, he added.
Lamb rack confit.
Sous vide lamb carrot terrine and coriander.
A chef who has done his MBA in Hotel management from I.M.I,— Luzern and is presently working as a Culinary Instructor with one of the best culinary institutes in India named Symbiosis School of Culinary Arts, loves making things such as: Broccoli soup with goat cheese, hand made pastas. Contemporary plating is another thing which Rizwan loves to do, Modern European cuisines has always been his foundation so he likes doing the fancy stuffs as well. Apart from this, Indian recipes is something that he absolutely love preparing, as there is soo much of depth and understanding in all regional Indian cuisines.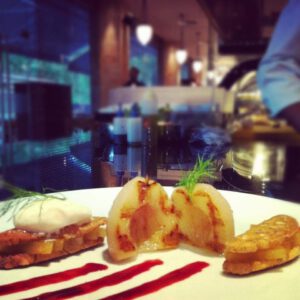 Poached pears with almond biscotti and fennel ice cream.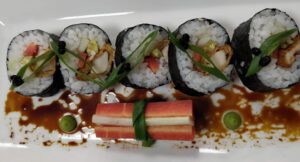 Sushi
Let us now talk about Chef Rizwan's achievements in his culinary career, here are some:
a) Winner of Master Chef at Hotel Ibis—Maharashtra, 2013.
b) Won THREE bronze medals at Emirates Salon Culinaire in 2011, for Beef practical, Fish practical and for five course gourmet menu and plating.
c) Symbiosis always recognises their faculty based on students feedback and achievements. Chef also believes his students achievements as his achievement, when they participate in other institutes round the country and win big.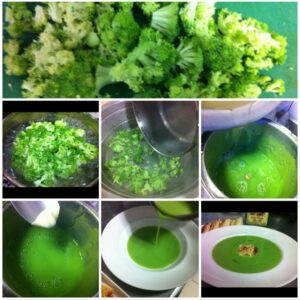 Brocolli Soup
Here Chef Rizwan will introduce one of his favourite recipes, which is truly a magic according to him—The Magical Soup also called Broccoli Soup. Delicious, healthy and needs only three ingredients to prepare. (Broccoli+Water+Salt).
DIRECTION:
Boil water in a deep pan, add 1/3 tbsp of salt to the boiling water. Trim the broccoli (remove the stalk) and add in boiling water and let it boil for 2-3 minutes. Drain the broccoli but do not throw it's water (as the magic lies in this water only). Blend the broccoli immediately along with enough drained water to a soup consistency.
NOTE- Hot mixture of Broccoli and water tend to burst out of the blender, use enough pressure on the top lid (possibly a kitchen towel over it would be best to avoid hot steam).
Pour the soup directly from the blender into soup bowl and serve it along with Garlic bread/Focaccia bread or even simple bread rolls will go well.
CHEF's TIP— 1/2 tsp of butter while blending will do wonders.
These were few things about Chef Rizwan, to know more about him or about other chefs and cuisines kindly keep reading REFT Today.
Interviewed: Chef Rizwan Yargatti,
Interview taken by: Senior Journalist Khatibah Rehmat,
Picture Courtesy: Chef Rizwan Yargatti.