The Massive Dining Area, Gothic Architecture, Himalayan Ranges and an excellent Executive Chef over, all royalties of the WelcomHotel The Savoy by ITC in Mussoorie. When they compile together in the midst of the mountains, then people often feel to be the king of this world! Not just the Rishis and the Munis are found in the sills of the alps but, great chefs with extraordinarily different skills are seen there to show the nation what they actually cook? I often visit those cities where I meet chefs who are tremendous enough but, are hidden like lost recipes of any state. So, a day came when I walked through the hills and jotted down the names of those chefs who has given their days and nights, months and years to their culinary careers and did not get anything in return apart from the appreciation from their customers for the food they cook. Before I walked through WelcomHotel The Savoy- Mussoorie, I spoke to their executive chef, Chef Sabyasachi Dasmahapatra that I will be coming there to take his interview for our magazine. After listening to me he became very excited and the very next morning he called me and gave a reminder whether I have reached the city by then or not? My team and I both adored his sense of responsibility and told him that we are near the hotel only. As soon as we entered over there, few of his staff members greeted my team mates and me with all due love and respect and escorted us till the biggest dining area of entire hill stations in India, where chef Sabyasachi was waiting with his kitchen team. We hardly get to see such properties whose work speaks up to the level of perfection.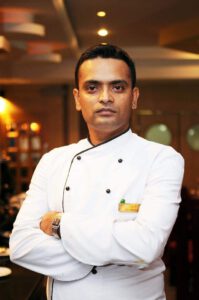 Executive Chef Sabyasachi Dasmahapatra.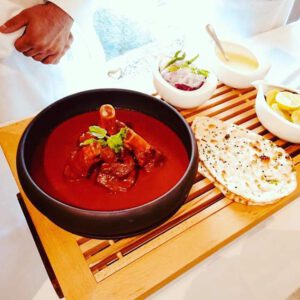 Laal Maas
Before we begin to know more and more about this kingly property and the food they cook, let us know a bit about the backbone of this hotel first. The executive chef, Chef Sabyasachi Dasmahapatra! A young boy who was born in village Negua and did his studies from a village called Kapil Kundala, a place which came into being after Pankit Chandra Chatopadhyaya named person became an IAS officer and was deputed as the district magistrate (DM) over there. Chef Sabyasachi did his schooling from this place only, but for further studies he joined the prestigious Kolkata University to become an English Literature graduate. Later, he got graduated in Hotel Management as well. Like this he came into the world of cooking industry and began his very first management training from Hotel Park Kolkata as a kitchen trainee. Then, he went to the Best Westin Hotels and worked there for three years, which is not a small spam of time indeed. When he entered into the Farm Group of Hotels, it gave a turning point to his career, where he worked as a pre-opening team member and received an opportunity to travel all over the country and got a lot of exposure as a whole. Since last five years he has been associated with ITC group of Hotels, though he was in Bangalore earlier but since 2014 he is working in this prestigious Hotel Savoy in Mussoorie, which is known amongst the iconic hotels of the country and also a great establishment of the year 1890.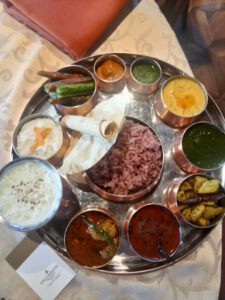 Himalyan Thali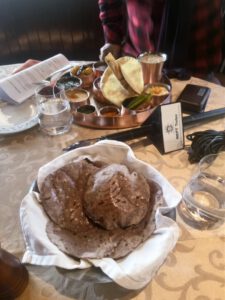 Himalyan Roti
Chef Sabyasachi narrated the history which is attached to this hotel since British Empire. He told about the well decorated army officers and different dignitaries who used to come and visit this place during the East-India company rule. After independence many dignitaries like Lal Bahadur Shastri, Jawaharlal Nehru, Indira Gandhi, King of Ethiopia, Dalaai Lama, and etc. all came here and enhanced its beauty more. After the restoration of the hotel in 2013, many dignitaries from rest of the countries had also visited this hotel. It is not just a hotel, but is a monument; chef even added that how happy he is being attached to this legacy. Apart from all this he said that he is fortunate enough to be associated with this world of culinary industry and has realised that none can claim to be perfect in cooking as he himself is working day and night in this industry since last seventeen years. People must realise that whatever they cook, it should be done from a clean and healthy heart or else their entire feeling will automatically reflect over their prepared meals and guests will come to know about the missing ingredient into it which is called 'love'. A chef's main motive should be more in cooking at a level where their whole heart is involved because in any case at the end of the day, one has to eat food and not money. Sabyasachi added that food is the only thing in this world where a country is connected to another country, a person is connected to another person, and politically it used to get connected during ancient era as well as in today's time and the list is umpteenth in this journey named life.
Well, to know more about Chef's chapter two, which will include his lifestyle, his teachings to other junior chefs and to the upcoming chefs, his recipes and his switch-over to another hotel etc. kindly, stay connected and keep on reading REFT Today.
Interview Taken by: Executive Chef Sabyasachi Dasmahapatra
Interview Taken by: Khatibah Rehmat
Picture Courtesy: Executive Chef Sabyasachi Dasmahapatra and Photo Journalist-REFT Today.