CHEF SUMIT PANT was a native of a working-class family who wasn't privileged enough to feast in an extravagant eatery or an elite class inn. However, he got the pre-eminent moment to tickle his taste buds once he visited a café beside his relative for the celebrations of clearing his secondary school decisively. At that point, he had his first-since forever savor of a mouth-watering dish named butter chicken. He still recalls how befuddled the taste buds were that day, as they even now seem to be. Well, he was blown up by the taste of the recipe. On top of it all, he was ready to learn the skills to cook such delectable food. Chef Sumit then decided, it's the right moment to revamp into a gourmet expert and ace the forte of winning one's heart by offering them food served with love and flavors at the same time. In a lighter mood, he believes that food must fill one's heart and soul.
He further added how his professional journey began. He signed off from IHM—Hyderabad and joint as a pre-opening team member with brands like ITC Sonar—Bangla, Grand Hyatt—Mumbai and has also worked with Radisson—New Delhi. He now specializes in the art of platting food, Indian fusion food and European cuisines. He had traveled the entire globe while working with luxurious cruise liners like PNO—Princess and Crystal Cruise. Now, he serves as a culinary trainer cum assistant professor at Banarsidas Chandiwala Institute of Hotel Management. He considers that it is essential to build influential future chefs. Keeping in mind the gap between the industry demands and the institution's supply, he makes sure that his students are engaged with him. This even sparked his proclivity to evolve the Indian delicacies to some next-level presentation that is an achievement for him. He keeps on experimenting with his methods of teaching and pass on the best to his students. However, one must be flexible and wear many hats.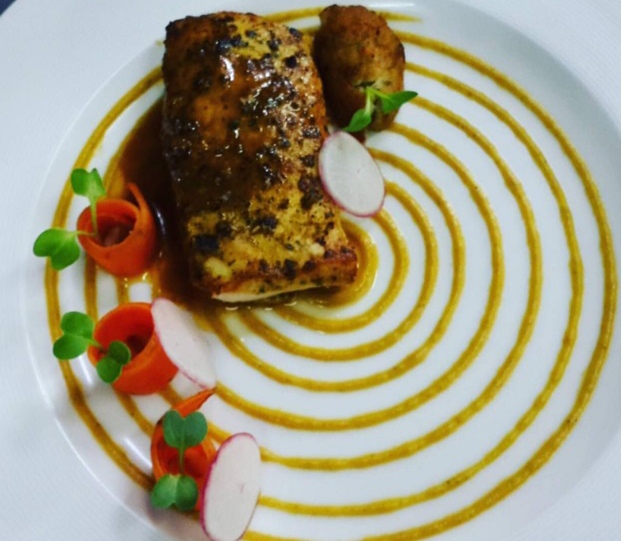 Besides that he considers, it is important for a shy person to set up his presence in the masses, else it can create a hindrance. In his college days, he was barking up the wrong tree, not even confident enough in clarifying the doubts with his faculties, which sadly went unanswered. Thus, life never remains the same; one must overcome his fears and follow the passion, surely he will get the cherry on the cake. He has worked all over the globe and honing culinary skills and trade; he then decided to take up academics as a career and encourage those who are encountering the likewise problems as he did during his college days. Intending to make learning smooth and quick, he came up with a passageway; chef Sumit started sharing digitalized notes for theories as well as for practicals. Even if students face any issues in the class, they can anytime grab their phones/laptops and refer to the study materials everywhere; until their concepts are crystal clear.

Attention is all about visual communication and engages with the audience. The "Food-Slide" is an initiative launched by him to grasp the attention and reach the students on the digital platform. The hotel management kitchen is India's leading YouTube channel assigned to ambitious chefs who dream of mastering the kitchen and art of culinary skills. "Food-Slide" has a huge fan following on digital platforms with more than 20k subscribers on YouTube and 22k followers on Facebook. The channel not only presents an innovative approach to enhance the learning capabilities of students but, it also enables the students to learn more effectively as the information is available in digital mode, which can be accessed by anyone, anywhere and anytime. The USP of the Food Slide is that, it is not just another cooking channel; it even make the videos according to the syllabus granted by the universities with an innovative approach of teaching to impart better, teaching—learning experience to the millennia's.

For sure, Chef Sumit Pant indicates that our lifestyles are not executed only for fun and relishing good moments. He believes that difficulties and challenges both are significant and integral components of our lives. It took him several years to attain zenith of success. In a nutshell, he remarked being a chef is solely about the profession, passion, and creativity; it takes time and perseverance. Magic in his hands helped him achieve zenith to the success and it helped to keep the fire ignited within him. The most prestigious award amongst all was the Master Chef of the year 2017-2018, an award given by Indian Culinary Forum.
Some of his recent awards and achievements are:
1. Best YouTube channel award (Education category) by world chef choice magazine.
2. Lifetime achievement award by Marwa Studio for providing digital learning to students across the globe.
3. Director Recognition for continuous three years.
4. Best faculty Food Production award by world's chef choice magazine.



INTERVIEWED: Chef Sumit Pant.
INTERVIEW TAKEN BY: Khatibah Rehmat
Senior Journalist and Writer.
PICTURE COURTESY: Chef Sumit Pant.
EDITING DONE BY: Suniti Garg Sub—Editor.