GREAT CHEFS, GOOD FOOD with Chef Azad Mohammed Hussain_22.

REFT Today's interview conversation of Khatibah Rehmat and Chef Azad Mohammed Hussain from—Asian Ocean Restaurant—Jeddah, KSA in it's Exclusive Talk Show—GREAT CHEFS, GOOD FOOD and the topic is: WAS PATIENCE ENOUGH TO KEEP YOU STANDING STILL IN THIS INDUSTRY? BY: KHATIBAH REHMAT.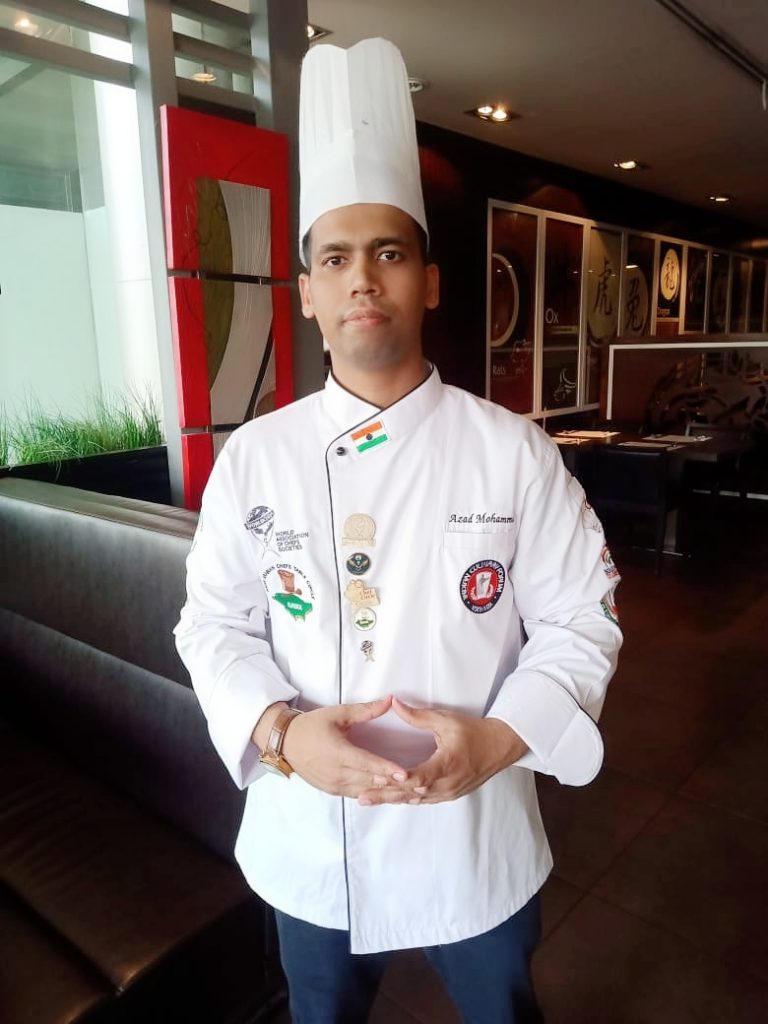 1. Before we initiate, I might want you to kindly inform our viewers and readers admiring yourself, with the aspiration that they may likewise come to know whom Dr. Chef Azad Hussain is, expressing about your family, origination, education, and rewards you received.
Chef Azad Mohammed Hussain: My name is Chef Azad Mohammed Hussain. I have been born and brought up in Kolkata and completed my graduation from Pune. Presently, relishing with my family in Jeddah—South Arabia. I have begun my pathway with Hotel Fidgalo—Goa as a Commi; I also served as a line cook with Chili's. Then worked with Chopsticks in South Arabia for a decade as an Executive Chef. Shortly, I am working with Asian Ocean Restaurant—Jeddah as a Kitchen Manager.
I am an owner and founder of the Chef's Association of West Bengal, member of the Association of Tunisienne des Professionnels de l'Art Culinaire, Indian Federation of Culinary Association, Chef's Choice Magazine, Indian Culinary Forum. I am a Culinary Arts Specialist at the International Philippine Center for Culinary Arts in Jeddah. I believe one must lead by example and sustain a positive outlook in the galley. Perpetually follow your passion, nurture your skills and design an atmosphere where great chefs nevermore want to bequeath.
2. For more than a decade, you have been in tfood industry; what are the differences did you find among the youngsters of two different generations?
Chef Azad Mohammed Hussain: I will commend my thirteenth year being a gourmet expert in 2020. What a ride it has been! There exist unmistakably more "wannabe-cooks" enrolling the industry these times than when I began, nevertheless interestingly, many exits en route, several arrive at the peak of their sport. To lay it out simply, the best chefs are committed and devoted.
"Cooking is like love, it should be entered into with complete abandon or not at all." — Harriet Von Horne. As this quote intends, passion with a touch of firm wildness is needed for a culinary specialist to be sufficient. To mold your expertise and inherent abilities into concrete feats, you all should have a dream. To ace any art or to upgrade your ability; you must hold to put forth a steady endeavor for quite a while. The secret is to endure diligent, innovative, and spurred at the uphill scales is patience.
3. What message do you want to give to our young guns?
Chef Azad Mohammed Hussain: Food channels and reality cooking shows glamorize the industry and make chef's life seem as though it is all fun and smooth, yet the truth of the undertaking is wholly diverse. Being a Chef isn't for a personage who prefers trudge with the sluggish alley. The pace is hectic. You need to think and react swiftly, be creative and excite patrons with your plates–the ensemble of this under pressure while gripping everybody in the kitchen and the café upbeat. It needs patients as, "Patience is a virtue that everybody must possess". Fiery kitchens, madcap shifts, inconstant ampere-hours, and showing up on weekends and public holidays act havoc with family and the social world.
They clamber up the step-stool that often get waylaid on the chopping slab that continue reminding yourself why you fancied turning into a culinary expert? Grasp the passion lively, pen down your aims and set timelines of events to accomplish them and dissect wherever you might have improved, give yourself prestige when your platter ceased up accumulated praises.
4. Did you ever feel in your early career that you shall quit from this place. If yes, then how did you cope up with that devastating situation?
Chef Azad Mohammed Hussain: Well, I will be outspoken with everybody. A profession in food service is more than a job—it is an augmentation of life. The best gourmet specialists discern the nexus linking food and humanity, they comprehend the deep-felt tale of the culinary convention and realise that preparing excellent cuisine is more than replicating a recipe. I nevermore assumed to vacate this booming industry filled with dreams. Serving for such a long time, I have agreed regardless of what position you are in, you have to have persistence.
I usually ventured out of upsetting incidents grasping my goals in my heart. Now, I am what I fancied and yearning for a superior variant of me. You ought to never settle on keen decisions to leave your dreams rather stay grinding your crafts. It is not manageable to make matches amidst cooking and life, as the two usually complete one another. Also, as during everyday life, chefs are needed to immerse themselves in their art.
5. Last but not least, give one non-vegetarian gravy or main course recipe.
Chef Azad Mohammed Hussain: The recipe is very close to my heart. Recently the Indian Culinary Forum has featured it as the Recipe of the Month.
CRISPY TOFU CHILLI CRAB SAUCE: Recipe number—1.

INGREDIENTS:
· 20—gram vegetable Oil
· 5—gram garlic chopped
· 25—gram onion chopped
· 200—gram tofu cut into Batonnet large
· 30—gram corn starch
· 5—gram dark soya sauce
· Salt to taste
· Black pepper to taste
· 2—gram shredded red chili finger
· 70—gram soup stock
· 30—gram Chilli crab sauce or hot garlic sauce.
· 5—gram spring onion chopped
METHOD:
Cut tofu into large and add salt, pepper, coat corn starch well and keep it in the chiller for 10 to 15 minutes.
Heat oil and deep-fry tofu to make it crispy.
Add oil in another heated pan with garlic, onion and saute them.
Add dark soya sauce, chili crab sauce, soup stock, red chili finger, crispy tofu inside the sauce, and then saute.
Add cornflour with water (thick texture)
Spring onions on the top for garnishing.

Serve it hot.
DYNAMITE SHRIMPS: Recipe number— 2.
INGREDIENTS:

· 180 gram Shrimp peeled and deveined
· Black pepper to taste
· Salt to taste
· 1 egg
· 3 tbsp corn starch
· Iceberg lettuce 1 pies
For sauce Dynamite:
· 70-gram mayonnaise
· 3 tbsp chilli oil
· 20 gram condensed milk
· 10 gram regular ceram
· 3 gram sugar
· 2 gram lemon juice
· 1 gram white vinegar
· 2-gram ketchup
METHOD:
1. Wash the shrimp and drain on a tissue paper.
2. Add salt, pepper, egg, cornflour in a bowl to marinate and whisk it well until coated.
3. Add oil to a pan to fry the shrimp for 1 to 2 minutes and make sure the oil is at the right temperature, drain it out well.
4. Combine the sauce in a medium bowl.
5. Mix lemon juice, white vinegar, sugar, creamy mayonnaise, chili and ketchup.
6. Add fried shrimp coated with sauce.
7. Ice Berg lettuce inside the shrimps.
8. Chopped spring onion for garnish.
Serve it hot.



INTERVIEWED: Chef Azad Mohammed Hussain.
INTERVIEW TAKEN BY: Khatibah Rehmat
Senior Journalist and Writer.
PICTURE COURTESY: Chef Azad Mohammed Hussain.
EDITING DONE BY: Suniti Garg Sub—Editor.