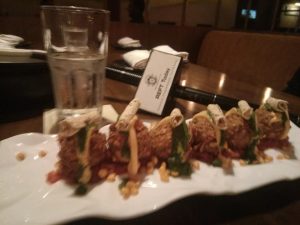 Signature dish of Farzi Cafe; Daal-Chawal with Papad, Hari chatni and Salad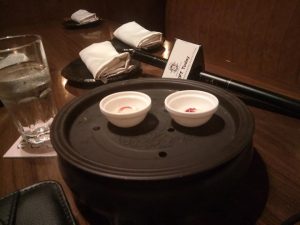 Farzi cafe's sweet curd shots, which is presented to all the guests as a welcome thing.
A Kanpur boy Utkarsh is now a sous chef at a franchise cafe in Chandigarh named as Farzi Cafe which has eight branches in India and two abroad, is working with food industry since past eight years and has done his hotel management from IHM Kurukshetra. Before working with Farzi Cafe few months back, he was in USA and was gaining experience with cruise lines and in a US based restaurant. Later, he worked with Oberoi Amarvillas, IHG Crowne Plaza- Rohini and Novotel - Bangalore. Chef Utkarsh is a multi Cuisine chef, having most of his experiences in Continental and world palates. He is working with Massive Restaurants Pvt. Ltd., since October - 2017 and loves to travel and explore things in his spare time. Being into the kitchen atmosphere does not just make him feel proud but, also makes him realize what he is today! Chef Utkarsh prepares these things at the outlet and those are: salads, desserts, main courses including Millet salads, bheja tawa masala with Cottage cheese bhatura, Gosht kosha, mangsho steak etc. To know more about this cafe please do visit their sector 26 outlet and also don't forget to meet this amazing chef.
Interview Taken by: REFT Today Correspondent.
Interviewed: Chef Utkarsh Srivastava.
Picture Courtesy: Chef Utkarsh and REFT Today Photo Journalist.
Place: Chandigarh.
#Chef #UtkarshSrivastava
#ChandigarhFood
#PunjabiCuisine
#PunjabiFood
#Chandigarh
#REFTTODAY #Correspondent