Chef Akshat Parihar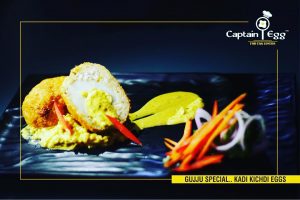 Gujju special-Kadhi kichdi eggs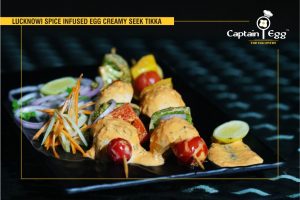 Lucknowi spice infused egg creamy seek tikka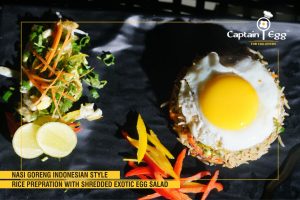 Nasi goreng indonasian style, rice preparations with shreded exotic egg salad.
For Captain Egg, it's like beginning with a single step covering a thousand miles ahead. International Corporate chef, Chef Akshat Parihar penned the menu personally and even revised the entire items, traveling all through Paris, Australia, Dubai, Abu Dhabi and then to Surat and Vadodara in India. This Diwali, Captain Egg will be opening it's doors in Ahmedabad, Bangalore , Chennai and Chandigarh and once again Chef Akshat will be found here for the launch of the revision in the menu at the present Captain Egg chains in Surat and Vadodara. World knows about the taste which Chef Akshat Parihar gives into his cuisines but, unfortunately his home country India doesn't know much about his taste so he was a bit worried for that so, chef joined hands with sunny side hospitality, and Captain Egg as their brand, being a corporate chef once again. He then took over the culinary command officially so that his countrymen can spot him sometimes in India and get the taste of what he has invented in the restaurant where he is in partner with! Chef Akshat Parihar is so much emotionally touched by his country India that he wants to engrave his taste into every citizens of his home and wants to put all his culinary creations and skills over here. Chef added that his country gave him everything, this is his birth land, he has served a lot to the world and now he wants to give wonderful cuisines to his home nation. The concept of Captain Egg is that, whatever they'll serve that will be out of eggs or the core ingredient will be eggs only. You just see to the pictures and will be amazed to know that these things can be made out of simple eggs? This is what Chef Akshat Parihar is known for, for his piece of every single masterpiece.
His vision is to create such delicacies with the experience he has gained from the world, with his endless travelling that people of his own country shall feel that appetite and indulgence of mouth watering flavours when they pick and try any thing from his menu which is specially crafted with a perfect blend of Oriental, Asian and authentic Indian cuisines keeping in mind the appetites of people of his country and to satisfy their taste buds. He told REFT Today Correspondent that both Captain Egg and him are getting great reviews from people for this outstanding concept. For Akshat money was never being into his priorities but for him, he always wanted to see a beautiful smile on everyone's face who take the taste of the food he cooks. Chef says that by this Diwali (somewhere in November), he want flavours of his creations to reach almost all major corners of his home country named India. I must personally say that one shall visit Captain Egg at least once in either of the two chains, one in Surat and another one in Vadodara-Gujarat-India. I am for sure that once you'll visit this place and try their cuisines, you will love to become an eggitarian.
Picture Courtesy and inputs given by: Chef Akshat Parihar.
Interview taken by: REFT Today Correspondent.
Interviewed: Chef #AkshatParihar.