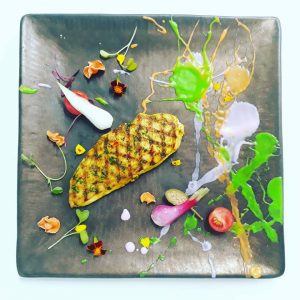 Curried Chicken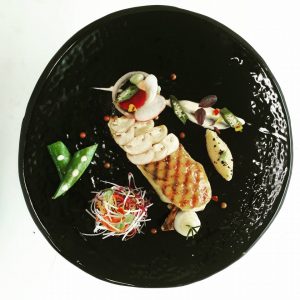 Honey mustard chicken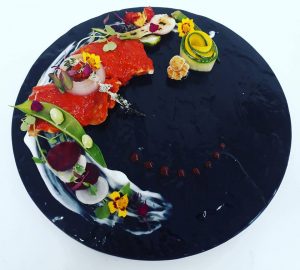 Thai style Sriracha chicken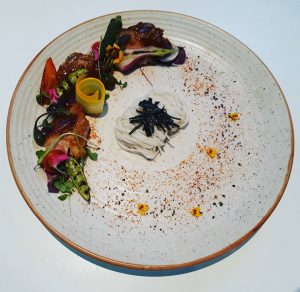 Teriyaki glazed chicken with somen noodles.
Before being a star chef today, he is the son of a phenomenal cook (mother) who used to help her out into the kitchen from his early boyhood. A passionate home cook turned into a highly professional chef who has changed his life so beautifully that, he has set a huge example in front of those young chefs who very easily give up from the food industry. I'm speaking about the Sous Chef - Altamash Patel who works with TAJSATS air catering - Mumbai. Patel is famous for his Japanese and Western Cuisines. This hotel is jointly owned by India's oldest hotel group - The Taj Group of Hotels and Singapore Airport Terminal Services.
Chef Altamash Patel was born, brought up and is working in Mumbai who is just 27 years of age and in his 4 to 5 years of experience he has taken a leap with great efforts to this extant. Son of a proud mother and a disappointed father (I giggled while interviewing) who has seen so much of dreams for his career that oneday or someday his eligible, second born son will surely become an engineer or a doctor whereas, not only breaking his dreams, heart and don't know what else, chef Altamash chose a completely different field which is known as the culinary field-the field of food.
On the other hand his elder brother is a software engineer and is working with a multinational firm as several other engineers do. Well, as Patel was a reluctant student, after he completed his studies in the year 2011, he was selected for six months internship at famous Hotel Taj - Land End - Bandra. Not just this he engraved his name into the 100% attendance award and nevertheless, the best kitchen trainee award. This was just the beginning of his successful career, let's see what all happened when Patel was unstoppable, unbeatable and had fly really very high in the sky.
Let's know more about him. While he was pursuing his two years training at TajSATS-Mumbai, he got trained in various departments and as he was the chef on board, he used to take feedbacks from the passengers, he even used to showcase his interest towards cooking that one day Chef Satish Arora (Ex Director Food Production, TajSATS) after observing Altamsh's eagerness towards learning new things into the kitchen, decided to put him into the Japanese kitchen where authentic Japanese food for all Nippon Airways (Mumbai to Tokyo) was being prepared. There are many more things to know about this Chef who cooks for almost 30,000 passengers everyday. Kindly, be a patient reader of REFT Today and wait for the next part of Chef Altamash Patel's abundance achievements.
Interview taken by: Khatibah Rehmat
Interviewed: Chef Altamash Patel
Picture Courtesy: Chef Altamash Chef Altamsh Patel.