Courtyard by Marriott-Chennai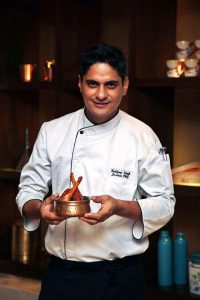 Sous-Chef Kuldeep Singh
Tandoori Chicken
Rogan Josh, Tandoori Murgh and Sage Roast Chicken, these are of course not prepared for any dinner party by anyone's mother, sister or wife. These are the signature dishes of a chef based in Chennai. Let us now read a true story of a boy who was born in a small village of Bundelkhand-Uttarakhand. He always used to feel blessed to be born and brought up in a place where he was surrounded with the cradle of nature amongst steep hills which was covered with lush green deodar forests and was constantly amazed and curious at the process of food production. As a child he had many questions to get solved, so that he may learn cooking to another level. Normally, when a child grows up he or she peeps into their mother's work and always get ready to poke their nose into their issues, but here the table was turned round. This little boy always used to go round about his lovely father who himself was a chef by profession. Apart from teaching him about food and other culinary skills, he also taught him its ethics and values, especially when a person tackles during hard times. He further taught him that never ever seek anybody's help when he feels low and think that nothing will change, it happens with everyone but, people recognise those who get up and fight for their own cause. His father was always more than a mother to him; he also believes that whatever and wherever he is standing today is just because of his father's efforts and hard work.
Tandoori Chicken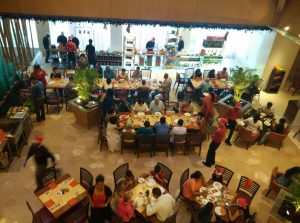 Guests enjoying their meals at Courtyard by Marriott-Chennai.
This is the story of a sous-chef who works with a five star property in Chennai named Courtyard by Marriott. He believes over one more teaching of his father that he should always remember what does love for good food exactly meant? Now, when Chef Kuldeep Singh is at a position where he can prove that nothing beats a good and healthy meal, like people eat at home and one must strive to recreate the feeling of having a 'ghar ka khana', (home cooked food). Chef says that his limits are not just to bring mouth-watering innovations to a customer's table but also seeing them leaving with a smile of satisfaction for the food which was prepared by him. Kuldeep is so passionate that he captures every step of food production to plating and travels to find a new cuisine, experimenting it and capturing the moments into his camera lenses. Whatever, Chef Kuldeep has dreamt of, since his childhood has been accomplished till the date. He has been recognised by his general manager and the executive chef for his hard work and great passion for cooking. Sous-Chef Kuldeep Singh is known for his specialised Western as well as Indian cuisines where he serves best of best food to his guests. I will personally say that one must visit Courtyard by Marriott-Chennai and do order the hilarious food prepared by Sous-Chef Kuldeep Singh.
INTERVIEWED: SOUS-CHEF KULDEEP SINGH
INTERVIEW TAKEN BY: KHATIBAH REHMAT
PICTURE COURTESY: SOUS-CHEF KULDEEP SINGH