Executive Chef, Chef Rajendra Singh of The Brew Bros.
Team - The Brew Bros. Mohali.
Mock tail - Brew Bros Punch.
Chef Rajendra Singh also known as Chef Raj, has an experience of twenty big years into this vibrant food industry, who began his career as a steward in Holiday Island Resort – Daman. There he got inspired by one of his senior chefs and decided to enter into food production and plating department. Ultimately, his passion lead him towards the same and he joint Hotel Sea Rock, in Daman itself. Chef Rajendra Singh was born in Silkoti - Tehri Garhwal – Uttarakhand. He did his diploma in Hospitality and Tourism Management from Indian Institute of Hospitality Management, Dehradun – Uttarakhand – India. When I first met him through one of my chef friend's reference, then we were connected to each other to attend an award function in Chandigarh. At that time I didn't know that this was the very first chef of my food journalism career who once came to my city – ALLAHabad and opened a franchise multi story restaurant and bar named - The Brew Master, which was one of its kinds in our city. I thought my chef friend has introduced me to him, but I was wrong, as soon as he saw my mike and the ID over it, he immediately recognised me and narrated the entire story that how did he come to ALLAHabad and I wrote FIVE stories on The Brew Master and did not even speak a word to him, just took MD's interviews and went back every time. (He went to this flash back with a bit distress and I controlled my laughter). Seriously, this chef is a gem of all who really feel proud to be associated in this industry of food and beverages.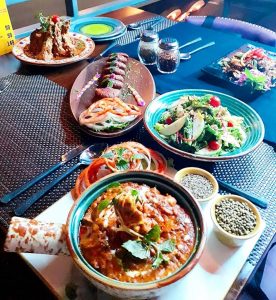 Dishes prepared by Executive Chef- Chef Rajendra Singh.
This industry has taught him so much in almost all spheres that it has become a major part of his life. He further added that like other industries it also has several ups and downs, what holds a person at its position is nothing but great passion; this was what leads him into immense experience. Apart from cooking and learning management skills Chef Rajendra Singh is very fond of playing cricket. Presently he is working with a unit of brewing and malting in Mohali called – Brew Brothers as, an Executive Chef. He has worked for almost all cuisines in the world but, his base dish is Indian whereas, Continental being his favourite. Let's move towards the dishes which are very close to his heart:
NAME OF THE CUISINES:
Fusion-Molten Beetroot
Indian-Tangdi Gulnar
Mexican-Margarita Quesadilla
Signature Dish-Murgh Nasha Alaska
Mock tail-Brew Bros Punch.
Here, the story about Chef Rajendra Singh does not come to an end but, he has few achievements to tell in his pocket full of career, let us now come to know about it as well. He has received:
a) Best chef of the year in 2016 in The Brew Master - Ludhiana (A unit of humble hospitality pvt.ltd.) and;
b) Youngest chef of the year in 2010 in Seven Days Restaurant - Faridabad (A unit of SRS group pvt.ltd.).
INTERVIEWED: CHEF RAJENDRA SINGH
INTERVIEW TAKEN BY: KHATIBAH REHMAT
PICTURE COURTESY: CHEF RAJENDRA SINGH.