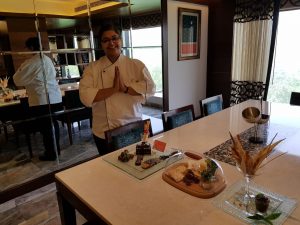 Executive Chef- Nandita Karan, Lalit Chandigarh.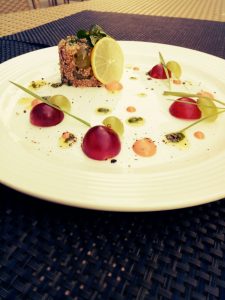 A dish prepared and presented by Executive Chef- Nandita Karan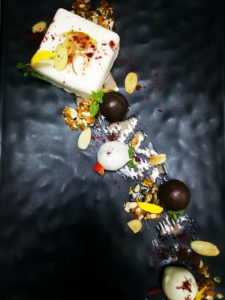 A dish prepared and presented by Executive Chef- Nandita Karan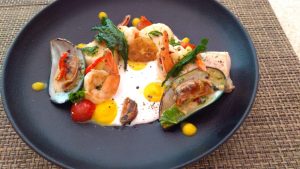 A dish prepared and presented by Executive Chef- Nandita Karan
When a thunder storm strikes a place, heavy waves splashes all over, crossing all boundaries and all mountains, there Chef Nandita is like standing with folded hands in the middle of the jungle having no fear of any natural calamities may fall upon her, watches all mess and says nothing! She simply waits for the dilemma to end in its very own way. Whether anyone roars or barks, she just tap it with her hands as in nothing has happened. She began her career being a commi chef and continued with the same profile for another three to four years chopping and cutting vegetables and meat as per the guidance of her on duty senior chefs. At this point normally young chefs quit after working for few months or in a year or two, she remained standing all the time at one position doing same work every day. Nandita never thought it was something boring, she understood her work and kept a believe that one day she will be on another side of the bench, but spoke nothing as if she knew that no one will understand her mental status and thoughts which was inherited in her as a gift of God. She went through several difficulties in both personal and professional lives, exactly in the same manner like trespassers passes through a busy road, thinking that it is their own property. The same thing happened with her, troubles kept on knocking her doors and every time she was overcoming through them. Chef Nandita never cared about any such situations and kept on moving ahead.
Sixteen years of her hard work and a long journey of chopping and cutting till becoming an Executive Chef of a five star renowned hotel in Chandigarh-India. It was not that easy, she had to face several ups and downs of life. Chef Nandita is more into continental food but did her diploma in Italian cuisines while she was working with an international celebrity chef Jamie Oliver in England. She has even worked with celebrity chefs like Chef Sanjeev Kapoor and Chef Peter Kuruvita in London. Nandita has a very interesting story while selecting her career; she was confused till the last moment of the placement day still, was not that sure whether she will join the front office or the kitchen? Then during the completion of her college she was send to the Hotel Oberoi for the first interview. When she reached there, she realised that the form she has filled and has written: FRONT OFFICE, there something happened to her and don't know what came into her heart, she cut that, scribbled very nicely and wrote: FOOD PRODUCTION. Well, just wait to know more what happened after that, till then let us read more about her childhood and the beginning of her to become more of Nadita to Great Executive Chef Nandita.
Nandita Karan - a very simple girl, who did her schooling etc. from Zavarmines, which was 40kms away from Udaipur-Rajasthan. It was a very small town which had very limited facilities somewhere around 30-35 years back. She grew up having her mother's food only and has tasted all the stuffs she used to cook. Her mother was a VERY GOOD COOK, Nandita added (when it comes to anybody's mother's cooking, it is always our mother only who cooks the best)-I laughed! She said that going out for dinner was not common at that time as it is today. Whenever aunties used to prepare some special food they used to exchange it amongst each other, they knew something will surely come tonight. They even used to exchange foods; it was the restaurant for them at that time. From there taste started developing in her. In the colony where she has spent her childhood during her father's job, was like a cosmopolitan place where Bengalis were there, South Indians were there, Punjabis were there not only this, people from all other states of India used to live over there. So, her childhood went like that.
Born and brought up in Patna but, moved to Udaipur as his father was an engineer, at a government organisation. Cooking was in her blood from her mother. Education wise she was a medical student, so her parents wanted her to be a doctor, but she was never fascinated with such a profession where people shall come with ailments, sadness, cries etc. She always wanted to serve people when they are happy and not sad at all. And when they shall leave, they should be happy. She had started her Career with Rajvillas an Oberoi Resort and then worked with Grand Hyatt Mumbai, Hilton London Gatwick Airport, Radisson Hotels, Sheraton Australia. Earlier, it was never like, cooking was a passion for her. She began her career in the year 2002, almost 16 years of hard work and then she is here as an Executive Chef at the Lalit property-Chandigarh. Lalit is a chain of hotels that have twelve properties in India and one in London.
Let us come back to that place where Chef Nandita Karan was going through her college campus placements and know what happened next? When she reached there, she realised that the form she filled and has written: FRONT OFFICE, there she cut that and something happened to her and don't know what came into her heart, she scribbled very nicely and wrote: FOOD PRODUCTION. Loud noise of around 250-300 students could easily be heard who were gathered over there for the interview but, she was the only lady chef who got selected for the kitchen for the very first round, I repeat the ONLY LADY CHEF who got selected for the kitchen for the very first round (got up and applaud). She took a long breath and tapped her heart and moved for the second round. See what happened next in another round? Whether she clears or laid back and waits for another interview to fall her way?
At that time her chef had come from England who was taking the interview. Then they asked her to prepare and present something to them, she did and cleared that round as well. She again tapped her heart and moved forward. Her first hotel was Rajvillas Oberoi and she was the first lady chef for that property (claps for this achievement of her, which is not that small actually). This was all about the beginning of her career but still, she was not into love with cooking and it was still her hobby which she loved to proceed which came within her from her mother. But, the skill she was being taught over there was fascinating her so much that when she went into the hard core industry from the hotel management institute, then she realised how beautiful this place is? From there, Chef Nandita started thinking more over the kitchen and her childhood hobby of cooking started turning into her full-fledged passion.
Now, when she is working with The Lalit group of Hotels then she speaks about several signature dishes of Lalit - India and England but, few chefs keep on preparing their signatures such as Chef Tyagi of Lalit - Delhi, he is a Baluchi chef and his prepared dishes revolves round the Lalit branches in India. Though Nandita has recently joint so, she hasn't started with any of her signatures but, few of the dishes are there which she often prepares and they are:
1) Seafood with chilli Coconut Cream,
2) Pulled Chicken Chila with tadka Mayonnaise,
3) Prawn Mango Curry with Dried Mango and
Cashews,
4) Beet Gnocchi with saffron cream and rocket
leaves,
5) Pan seared Scallops with Indian sweet mango
Chutney,
6) White Choco coated Gulab Jamun with Rabri
Mousse,
7) Gajjar Halwa Ravioli with Pistachio Cream.
Apart from all this Nandita added that being into this industry, people hardly get anytime to pursue their hobbies but, apart from inventing new food out of some spices, vegetables etc. she loves to listen to music and sometimes she even sings (we both laughed on this). Personality wise she is very calm and quite, people asks her that being at this position she should be a bit loud over other employees, but she never bursts out like that, as she says that when commis and other chefs or co-staffs are simply doing their works then what's the point of poking anybody for no cause? People even say that she is not for the hotel industry as she is a very simple going lady. But, she believes in either making the work done with a good team spirit or giving them responsibilities and making them work. There is no point of shouting and all. Being simple is better. It was a long journey and not a matter of growing and getting things in a single day! (Respect).
Interviewed: Executive Chef Nandita Karan
Interview taken by: Khatibah Rehmat
Senior International Journalist.
Picture Coutesy: Executive Chef Nandita Karan
Special Thanks to: Team Lalit, Executive Chef Santosh Shah- Lalit London,
Chef-de-Cusine- Jomon Koriakose- Lalit London.