Lamb gravy by: Executive Chef Himanshu Sonkar.
Both are known as the executive chefs but, who has more depth in them all knows. I am speaking about an Executive chef of a hotel and of any restaurant. So many chains are coming up these days that, just to chase almost all competitions in life, their owners simply hire anybody who has an IHM degree or have few months or years' of experience. Not at all trying them with taste, plating or making guest relations, though there are more things to share but, this was enough for time being. Whereas, becoming an executive chef of a five star hotel takes almost everything, this industry rubs one like anything, but once they are out to the world front, they glow like a glittering gold. Of course, it doesn't happens every time, so now in that case I am going to tell you about a young boy who works with a restaurant in Hyderabad named - The Masquerade café Hyderabad (A modern Indian café) as an executive chef, belongs to a butcher's family of Delhi and used to help in the Gurudwaras and Temples' kitchen to cook the holy food along with his family and friends, since his young age. I am speaking about a very young and highly dynamic chef, Chef Himanshu Sonkar who did his hotel management from IHM Bhopal and began to learn his professional cooking from there. This was the root cause of his successful career today, where in-numerous numbers of restaurants approach him for menu designing, restaurant opening, etc. etc. Chef Himanshu had a fear that, if he fails to prove himself in this marvellous food industry, then in any case he has to join his ancestor's butchery business and run that till death.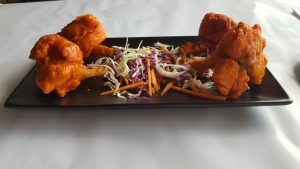 Chicken lollypops by: Executive Chef Himanshu Sonkar.
But, he was fortunate enough to get a bright ray of light and after completing his studies, Himanshu joined Leela Hotels, Hotel Pullman Accor Group, Royal Caribbean Cruise-Miami-USA. Not only this, chef was associated with one of the bars and restaurants in Auckland-New Zealand, named: Tandoori Bar and Bistro. When he was working with Royal Caribbean Cruise-Miami-USA there, one of the American bloggers appreciated his Indian cuisines and named him in his blog. Chef further told REFT Today about his interest in this industry and what does he feel for that? He said that the reason behind choosing this particular career is that he enjoys his work to the utmost, it feels more lively for him when he decorate or plate the food which he prepares. Though it is not an easy job for a person to be a chef as it is very tough to give extra hours to ones work, even in this condition chef Himanshu says that, he is never tired from his work rather he enjoys. Apart from cooking he loves photography, shopping and exercising in the gym. Chef Himanshu Sonkar's signature dishes are: Biryani in Awadhi style, Nalli Nahari in Old Delhi style, Reshmi Kababs, Galawati Kababs and last but not the least Makhmali Lamb Chops. His main love and focus is in preparing Biryanis and Nalli Naharis. If you want to know more about this enthusiast chef kindly, keep on reading REFT Today and wait for his next article.
INTERVIEWED: EXECUTIVE CHEF HIMANSHU SONKAR
INTERVIEW TAKEN BY: KHATIBAH REHMAT
PICTURE COURTESY: EXECUTIVE CHEF HIMANSHU SONKAR