Entrepreneur Mudassir Iqbal
Zooby's Kitchen
Veg Tikkas
Barra Chicken
Seekh Kababs
Tikka Kababs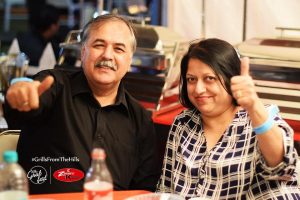 Happy Customers at the food fest.
Food Fest
CATEGORY: Entrepreneurship
Interviewed: Muddassir Iqbal
Picture Courtesy: Team Zooby's Kitchen.
A little boy who grew up with born ambitions to move ahead in life with several goals and compiling them all together to become the KING of his own court! Muddassir Iqbal has been raised up in Nainital and did his schooling from one of the prestigious schools named St. Joseph's College. After completing his standard twelfth, he moved towards Fashion Merchandising and Retail Management along with Business Administration from FDDI, Noida. He thanks himself for his uncanny abilities of taking risks, painstaking attention to detail, and his not-so-secret weapon called HARD WORK. Iqbal later did his Visual Communications from AJK MCRC, New Delhi. After completing his studies he started giving motivational and personality enhancement talks to students which he started as a hobby and it soon turned him into a leading speaking expert at a young age. Colleges, institutes and corporates Pan India had invited him for speaking on topics like Leadership, Motivation, Entrepreneurship, Life Skills and many more. Hence, as an outcome, he started earning at a very tiny age. Muddassir is into many things, such as Public speaking, Ad Making, etc. But, he mostly emphasises upon his family business of the chains of restaurants, which he runs with his father - Mohd Iqbal Shamsi and brother - Zafar Shamsi since last NINE years. It's name is Zooby's Kitchen, which has THREE chains of restaurants in India. One is in South Delhi, another one is in Noida and the third one is in Nainital.
While speaking about his restaurant, Muddassir Iqbal added that any business is run by three principles which revolves around balancing them like three pillars. One is experience, second one is business acumen, third and the last one which is most important - risk taking. Being lucky enough, in terms of his restaurant - Zooby's Kitchen he leaves experience to his father, business acumen for his brother and lastly, risk taking on himself, that too with great faith within himself and with the Almighty. He laughed and said that being born and raised in a Muslim family, their conversation begins with food and ends with food which is something very natural for them (he laughs). Apart from being indulged into a food business, instead of that the situation is same. Iqbal further put light on today's mentality of going and having food outside. People smell food at very first point secondly, they watch it from their eyes then they proceed with eating. According to him, senses plays a vital role, after that social media also plays a good game. He is so confident with his work that he asks people to read their reviews first and then visit his property. Not only this, his Jasola outlet has been rated for three consecutive years for maximum check-ins. Hygiene is another main point on which his entire team and him both take very good care of, at all the three branches of Zooby's Kitchen.
Their special Tandoori Chicken is a dish which has been awarded for. It comes dipped in a yoghurt cream and butter sauce. Other signature dishes include Dumpukht Biryani, Chicken Barra, Kalmi Kabab, Nahari and Khameeri Roti, they are becoming so much viral which is beyond expectations. Zooby's top selling items are Chicken Masala, Chicken Tikka Makhani and Mutton Rogan Josh. They have up to THREE HUNDRED items in all three of their restaurants and whatever their guests pick up as their choices, they love to prepare that without creating any fuss or having any confusion. Great plating and unique concepts along with great service is what they focus on, apart from the core element called food. Since they serve authentic Mughlai food they have to maintain right temperature, and right processes at different places is indeed a very big challenge for their team. For having no ruckus in between of the high time of the restaurant, Muddassir makes very much sure that his team gets a good meeting every now and then. He focuses more upon branding his restaurant's name and into marketing of his products amongst common public and his target audiences.
Time to time they keep on participating in food festivals across Delhi NCR and recently were a part of India's Premiere Food Festival "The Grub Fest". It was a great exposure for their brand indeed. Well, Iqbal and sons are doing really well in an advanced form, from bringing a good Mughal food in a modern way to the world of entire food industry. Hats off to the efforts made by Muddassir Iqbal who is being doing so much to make his parents feel proud at this tender age, when boys do not want to grow up and think they are still small, spend their weekends in pubs, cinemas and do long outings, that too with their parent's hard earned money. They don't even bother to think that how they must be working to give a perfect livelihood to their future. Here, Muddassir is making his parents feel proud and setting up an excellent example infront of the world that how beautifully he is shaping his career and nurturing his business at top class level! (I stood up and clapped for his true efforts). After knowing all this about him, I would personally like to add that Muddassir is not just the KING OF HIS OWN COURT but also belongs as a KING to the world of FOOD ENTHUSIASTS. He further added that his success lies in his great team and hard work which they put in, but their biggest advantage is the customer base that they have. People have been with them through out and he believes in giving back to them with their quality and values. So, he thanks each and every individual who has touched his brand in any way. He also thanks to their feedbacks and suggestions and take that extra effort to make it right in ways that he best knows of and is trying to improve where it is mostly needed. Whenever you visit Nainital or come to Delhi at Shaheenbagh Jasola or at sector 76 Noida then do visit Muddassir Iqbal's Zooby's Kitchen.