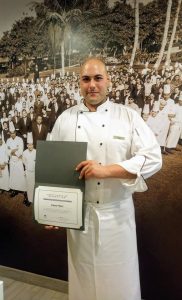 Head Chef Cesar Nasr.
A dish prepared by Head Chef Cesar Nasr.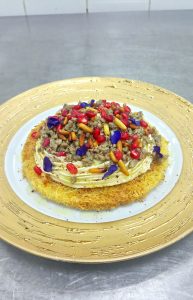 A dish prepared by Head Chef Cesar Nasr.
Live counter Hyatt Dubai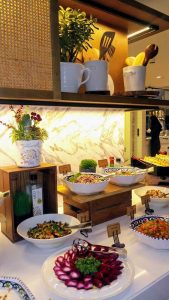 Salads, dressings, etc. etc.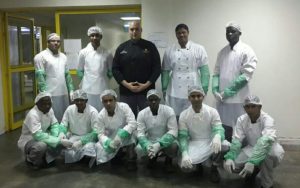 Head Chef Cesar Nasr along with his Arabian Cusine co-chefs.
Chef for Arabian cuisines in Hyatt Regency Dubai which is one of its own kinds in the Middle East is from Tripoli, Lebanon. Head chef Cesar Nasr is famous for his Arabian cuisines and has been honoured with several awards in UAE and in other parts of the world as well. Apart from what he is and what not, while taking his interview I realised that he is a very kind hearted person before being a wonderful chef. Someone has truly said that if one has to cook a delicious food then they have to be clean from their hearts which I saw in Nasr. When I asked him about his rising interest over cooking multiple cuisines and preparing them the way no one else could, then he told me that his mother was a great cook and all this came from her end only. He added that when he was a kid, he used to help his mother in the kitchen like in cutting or chopping of vegetables or meat. Later, he began preparing simple dishes and started getting praise from his mother and other family members. People often say that they belong to so and so family, their grandfathers, great grandfathers were this and that etc., but when it comes to Chef Cesar Nasr, then he simply says that he belongs to a food loving family where, everybody is very much fond of having different types of cuisines (I laughed up on the logic he gave). His childhood went watching his mother preparing delicious as well as healthy traditional Lebanese meals at home, for his father, brother and for him. When his mother acknowledged that her son Cesar is very much into cooking then she used to gift him kitchen tools as Christmas gift rather than presenting him the toys which normally kids want in their childhood. This reason was alone enough for him to get motivated being a Chef in his life ahead.
When Cesar grew up, he went into hotel management course as per he promised himself in childhood. So, he did his Vocational Hotel studies for three years from 2004-2007 scoring excellent grades as well. After that he completed his further studies from Hotel and Tourism Training Centre- Damascus, which is known as the very first hotel management institute in entire Middle East. In 2009 he excellently scored first class marks in a diploma course for cooking techniques and hotel management. At the same time he was working for a four star property, though he had a neck to neck schedule but things went really well gaining more of kitchen experiences. Chef Cesar added that simply having a cooking skill isn't enough to become a wonderful chef, one needs to be talented, strong in imagination, more into creativity and training oneself in a daily scenario to become best out of best chefs in entire world. He further speaks about his little culinary journey post studies where, he moved to Dubai in 2012 and worked as a supervisor at one of the major restaurants in the Emirates. Then, he was transferred to Gloria Jean's Coffees as the Production Manager and served there for 5 years, he has seen them growing from 20 to over 70 branches in entire UAE. He provided healthy options for hospitals where he gave, fresh Salads, Wraps and Croissant Sandwiches. In 2017 he joined the Emirates Culinary Guild as a senior member and participated in many events and salon culinary as a Marshal. His journey is a never ending game where he knows he wins at every phase. Being an Arabic chef in an Arabian Kitchen he loves to cook all new dishes, coming up with several ideas and bringing them to plate for his guests. But, still he speaks a bit about his love for Lebanese Fusion Cuisines, apart from that he also likes learning different dishes of other countries. All in all he cooks with great love and enthusiasm. Last but not the least he speaks about his signature dishes which he prepares at Hyatt Regency Dubai and they are:
a) Kunafa Hummus bil Lahme,
b) Kebab Pistachio with Yogurt Sauce,
c) Katayef Labneh.
INTERVIEWED: Head Chef Cesar Nasr
INTERVIEW TAKEN By: Khatibah Rehmat
PICTURE COURTESY: Head Chef Cesar Nasr.