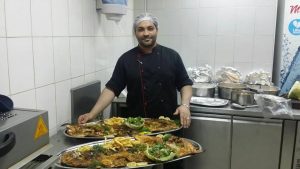 The lavish order of fish and fries.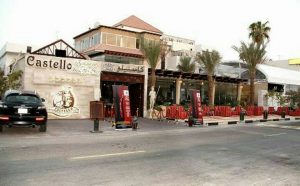 Outside view of Castillo Restaurant.
Dinning area of Castillo Restaurant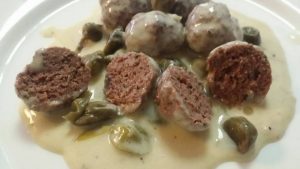 Meatballs Sauce Aeventh Capper Del McNee
NAME: HASSAN KHALED MALKASH
Profession: TEACHER turned CHEF
Resident of: Damascus - Syria
Work place: Dubai - United Arab Emirates.
Few days back while I was speaking to a man of cuisines - Hassan Khaled Malkash, I became astonished when he told me that he was a full time teacher in a school, before becoming a Chef in the capital city of Syria - Damascus. Imagine, a chef with such a difference that it sounded like horizons meeting. I said to myself, teacher turned chef? That too after such a long spam of time. Really? Chef Hassan or teacher Hassan was born in Damascus, the capital city of Syria, who never had an appropriate aim, that what exactly he has to do in his life, so he took an easy target to chase and opted teaching as his debut career. But, it is truly said that no one knows when life gives you a U - turn and God starts grinding it's mill in his own way out. Teacher Hassan Khaled Malkash was quite happy with his life, but an insect of cooking various cuisines was continuously biting within himself. Rather, he was unable to recognize his actual abilities. Normally, men needs to get pushed from their back, so that they may get a bright future ahead. Well, teacher Hassan's life came to a stand still mode, where he had to get up early in the morning, get ready, prepare the breakfast and reach to school on time, teach the kids, come back home once again, used to do his daily household work, etc.
But destiny had something else for him to showcase, so that he could explore to an endless world of cuisines. A place where there are challenges at every step, a place where he had to learn from top to toe every time, a place where cuisines teaches you day and night etc. etc....!!! One day like other men, he also got married luckily, to one of the most beautiful ladies on earth. She was not only beautiful but, was also a sensible woman who knew her household goals. After spending few weeks with Hassan, she recognized his passion for cooking. She asked him to hold his breath, quit his teaching job and forced him to enter into the world of cooking where he was hesitating to enter and grabbing new challenges. That very day it became the turning point of his life, for which Chef Hassan gives the entire credit to his wife.
Now, the big day came into being. Who knew that a simple school teacher will ever enter into cooking? By now, teacher Hassan has become chef Hassan, which was of course a moment of pride and honour not just for him but also for his entire family, specially for his wife, who unconditionally trusted her husband and brought him to a position where people can call him a successful International Chef. Well, Chef Hassan Khaled Malkash began his career by entering into the fields of making oriental sweets. He was so consistent and loyal towards his passion that, he spent his TEN YEARS while cooking the same thing. Several seasons came and went back, but no storm was that strong which could shake him from his position. He faced several challenges but, never - ever thought of giving up. It doesn't mean that he has never fallen down. Yes, Chef Hassan had fallen down several times but, every time he stood up with same zeal, as he did for the very first time.
Later, Hassan entered into the field of Eastern cooking, here also he became successful as per expected. People used to love his food, way of presentation and the mouthwatering taste. He was so keen towards his work that here also he gave SEVEN YEARS to eastern cooking. After gaining SEVENTEEN YEARS of experience, Hassan marched his journey towards United Arab Emirates and became the master of cooking Indian, Moroccan, Italian and of course Eastern cuisines. Currently, he is based in Dubai and is working with Castillo Restaurant, which is known for Indian and Italian cuisines. Now, this teacher turned chef has a lot to tell the world, all about his culinary career. Chef Hassan became the member of the Assembly of the United Arab Emirates for cooking. He believes that Chef Majid Sabbagh, the general chairman of the world assembly for Syrian Cooking and his brother and chef Amer lead him towards winning the award for best chef in Middle East and North Africa. He further thanks his Almighty ALLAH, who gave him so much of success and respect round the globe. His staff members were always like a supporting system during his working hours. Last but not the least he would once again like to thanks to his beautiful wife, who always trusted and supported him in all spheres of his life.
Interviewee: Khatibah Rehmat
Interviewed: Chef Hasan Malkash
Picture Courtesy: Chef Hassan Khaled Malkash