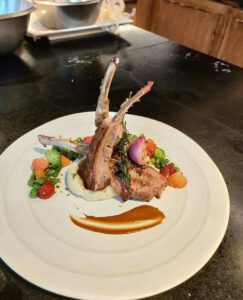 Rosemery roast rack o lamb with root vegetables and pomery mash.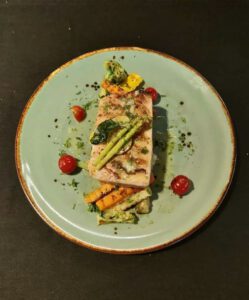 Fenel marinated grilled sole with asparagus.
Basically a Western Cuisine chef, who believes to be fortunate enough to go to Maldives and work with an Italian Chef, from where he became an expertise in the same, specially into Italian cuisines. Few are named below:
a) Lasagne
b) Raviolis
c) Pastas (all homemade).
In his précised world of cooking and being in the race of grabbing several awards for preparing delicious food, Sous Chef Pradeep of J.W.Marriott-Masoorie says that, entire culinary industry is so big that every day is a day to learn a new lesson. Here, no one can say that they have learnt everything and have become the master of this industry. A Western cuisine chef who feels fortunate enough for his work, was actually very confused during his late school time, when he had to think about his career. Pradeep thought of joining Army and many other courses but, ultimately landed into Hotel Management. Here also he was not much sure of his work and future. As time passed away he started loving his work and realised that a good work needs complete passion and dedication. One's interest should come from within and none should force anyone from doing anything. Having patience is like a key ingredient to become a successful chef in life and one day or someday time will surely change and then it gives from both the hands.
Grilled Trout with Peppers.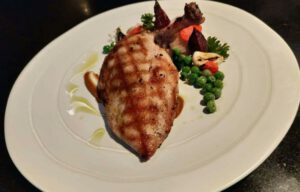 Spring chicken breast with green peas.
Chef Pradeep added that India has a diverse culture in terms of food which starts from extreme North to absolute South. Every new day is a day to learn a new lesson. None is perfect, neither a Commi-1 nor an Executive Chef, but the enhanced technology has made cooking easier, whether it is about making a proton cake or any other thing. Last but not the least, Sous Chef Pradeep has spoken about his signature dishes which are as follows:
a) Garwali Thali (which their chefs and he himself has decided to promote more, as their local dish).
b) Dal Makhni (which they prepare in their own style).
c) Gat ka Parantha. (Gat is a horse gram which is being soaked overnight and then a mixture is made out of it to make a Parantha, it is very good for controlling cholesterol and is also quite famous amongst people which they order for their breakfast).
d) Swala-A deep fried onion puri (which is once again a local dish).
That was all about Chef Pradeep, so stay connected and keep on reading REFT Today!
Interviewed: Sous Chef Pradeep
Place: J.W.Marriott-Masoorie
Picture Courtesy: Chef Pradeep and Khatibah Rehmat
Interview Taken By: Khatibah Rehmat.