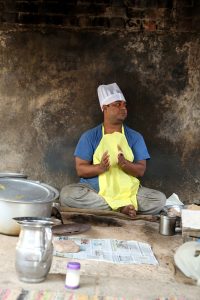 A road side tandoori being facilitated with an apron and a chef cap.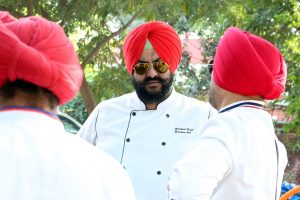 Executive Chef Manpreet Singh discussing something with his co-companions.
Principal Chef Harshbir Singh and Executive Chef Manpreet Singh along with their fellow companion chefs named: Chef Bhupinder Juss, Chef James, Chef Prashant Rohilla, Chef Sunil Singh, Chef Jyotbir Singh, Chef Jaswinder Singh, Chef Sanjay Sharma and Chef Aaron, took the noble procession on their bikes and cars and roamed in entire city of Chandigarh to search the 'Tandoories', who used to prepare almost all kind of 'tandoori roties', from several years, but did not get any recognition from entire culinary industry. Some tandoories' shops were as old as of the age of the city itself. Imagine, nobody ever thought of bringing them to the limelight or to the fore-front of the world. This team of chefs did so good and also took out a day for them from their very busy schedule.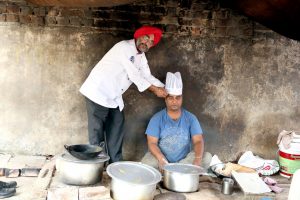 Chef facilitating a tandoori.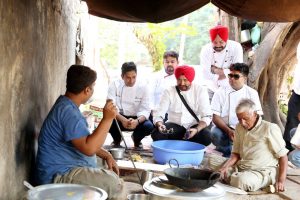 Team of Chefs speaking with the tandoori.
They facilitated them with chef caps and aprons, so that they may feel honoured for the work they are doing since generations. The way these tandoories work is really nostalgic; it also gives actual flavours to the cooked dough which turns into an Indian bread. They prepare a dig-in tandoor, which make this city a unique place where food is catered and prepared in a traditional Punjabi way. These 'zameen-dug-tandoors', can easily be found in almost every inner markets of the city, perhaps few of them are as old as the city itself. Well, who cares for less privileged ones of the society? But, this team of chefs took an initiative that they will honour the road side tandoories who have kept the actual Punjabi tradition alive in this century. The culinary world needs to look forward towards these types of people who are being hidden with the dust of time.
A tandoori all set to put the roti in the tandoor.
Dailly customers enjoying the meal.
While speaking to Principal Chef Harshbir Singh and Executive Chef Manpreet Singh, they both seemed to be really worried for such laidback tandoories of the city. They added that several chefs are more bothered in their own uplift men and are doing cooking shows for television and several unnecessary cookery competitions, rather than doing something for these tandoories who has burnt themselves in the midst of tandoor. They were true to their part when they said that, when a tandoorie vegetable, daal or even meat is cooked then it is the smoke only which gives that intense flavour to food. Then how it becomes possible for anyone to ignore such an artistic people of the society? What makes them different from other Food Kiosks and small time eating joins is that; here whatever is served or catered to a true appetite is to satisfy the basic need for hunger.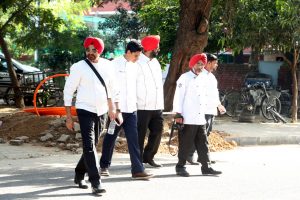 Chefs marching towards the search of another tandoori.
Team of chefs with another tandoori.
Chefs have chosen a very special day to facilitate these people of tandoor and that was the International Chefs Day. Their next aim is to observe the day with a cause and they took a resolution to work or to contribute a bit towards, "Restoration of Left-out food", that goes waste daily in different kitchens within the city. They resolved to raise the general awareness amongst different sectors in the form of Hotels/ Restaurants, Institutions, Industrial or Corporate houses to restore the cooked food that probably goes waste in tons. They resolved to give representations to heads of different organisations, to take up as a collective mass effort to contribute towards United Nation's Zero Hunger or Hunger free-2030 mission, beginning from their own home city 'Chandigarh/ Tri-City', making it a premiere first Zero Hunger or Hunger Free city in the country to set up an example for others to emulate.
INTERVIEW TAKEN BY: Khatibah Rehmat
INTERVIEWED: Principal Chef Harshbir Singh and Executive Chef Manpreet Singh.
PICTURE COURTESY: Principal Chef Harshbir Singh.