Danish Reyaz - The director of the academy
One of the participants presenting her food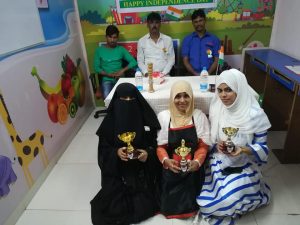 The winners of the food event.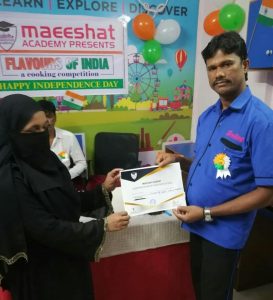 Participation certificate being given to one of the participants.
One of the winner participants, presenting her food.
No one knows that little efforts could do something big to isolated women who are living in a society like Mumbra, Mumbai. Danish Reyaz and Sharmin Tahir runs a small institution for the children of up to standard tenth, that too for free (who can't afford). The nobel cause they are doing is like a heartfelt thing to the entire humanity. Looking forward to the food enthusiasts who cook really well but have kept themselves hidden in the darkness of the kitchens of their homes, these two people Danish and Sharmin dug out those Muslim women from their homes and promoted them to cook something on the occasion of the 72nd Independence day. That too as a full fledged competition, of course at a smaller scale but with a wider vision. Earlier, they were hesitant to participate but, Sharmin encouraged them immensely and even visited their homes so that they may put another step forward just after her. Women came up full hearted and did their level best to showcase their cooking talents in front of they themselves. Maeeshat Academy named that event as 'The Flavours of India'.
Few of the local restaurant's owners even joined to appreciate the young ladies. They were awarded first, second and third respectively and rest of them were presented with appreciation certificates. This could be a small effort but for a real big cause, all thanks to the two owners of the Maeeshat Academy which runs under Maeeshat Media Pvt. Ltd., which laid it's nobel foundation in December, 2017. The motive behind conducting this cooking competition was to bring hidden talents out in this men dominant world. Hats off to the people who came up with the guts, who dragged women out of their own cells. Maeeshat Academy along with Danish and Sharmin have made counseling sessions for women, which is specifically designed for the housewives so that they may enhance their personalities in today's era where women have reached to the moon. Their aim is to make them socially, morally and financially strong enough so that they may become competent in today's fast growing world. When Danish Reyaz came up with this idea of forming an academy for educational purposes as well as for women empowerment then, Mrs. Sharmin Tahir executed his idea practically.
INTERVIEW TAKEN BY: REFT Today Correspondent.
INTERVIEWED: Danish Reyaz
INPUTS GIVEN BY: Sharmin Tahir
PICTURE COURTESY: Sharmin Tahir
PLACE: Mumbai-India.
#DanishReyaz
#Mumbaifood
#MaeeshatAcademy