A chef who loves to bring fresh ingredients to prepare a tantalising, finger licking and mouth watering dish, has a very hard to swallow story of his life where his mother lost her vision when he was really young. At that time his father used to help him in the kitchen, while rest of the time he was the one who used to cook. Later, he joined the culinary school where his cooking interest turned into his passion. Chef Mohammed Tarique Aziz was born and raised in Kolkata-West Bengal in India, who has completed his higher secondary school as a science stream student and his father was keen enough to make him an engineer like most of the people in his family. But, his interest was more in improving his culinary skills than to join an engineering college for having no interest in it so, he entered in a cooking school to grab his degree, named: Hotel Management, Catering Technology and Applied Nutrition Institute.
Executive Chef Mohammad Tarique Aziz.
Asparagos Soup with Gnoochi.
He is a chef who knows umpteenth number of dishes and is a master in preparing multi cuisines, has started his very first culinary journey at Hotel Le Meridian-Bangalore during his graduation time in 2006. Chef Tarique was just 21 when he joint the hotel as a kitchen executive and just after two years of rigorous work he was promoted as Chef De Partie. It was a life transforming situation for the chef from where he never ever thought of returning, rather he flied so high that today he became an Executive Chef. After that he worked at several prestigious hotels such as:
a) Cove Rotana Resort and Spa Res Al Khaimah, United Arab Emirates, as a pre-opening team member.
b) Sous Chef De Cuisine, in Sealin Resort Doha.
c) Executive Sous Chef at Hotel Sheraton Gambia and Resort.
d) Executive Chef De Cuisine at Hotel W Doha.
e) Executive Chef at Sunset Beach Resort Marina and Spa.
f) Presently working as an Executive Chef at Noku Resort-Maldives.
Veal home made Revioli
Cannelloni stuffed with Lobster Habiscus sauce and Scallop.
Chef Tarique Aziz also became an honorary member of various culinary associations during his middle east tenure such as:
a) Sr. Member of Saudi Arabian Chefs Table Circle and the member of Chef's WACS (World Association of Chef Societies).
b) Sr. Member of Arab Chef's Federation and Member of World Master Chef's Association.
c) Member of South India Culinary Association (SICA) under Indian Federation Culinary Association (IFCA).
d) Certificate was awarded by the Association of the Emirates Culinary guild for Five – Course Gourmet Dinner Menu at The Emirates Salon Culinary - Dubai 2010.
e) Special Certificate of Achievement from The Cove Rotana Hotel, has successfully awarded with a Gold Medal in the category Five – Course Gourmet Dinner Menu 2010.
f) Special certificate in recognition of contribution to the successful opening of The Cove Rotana Resort – Ras Al Khaimah.
g) Spice Market (W Doha Hotel) named Best Restaurant in Doha at the BBC Good Food Middle East Awards in 2014. (A wonderful team work).
DCIM101MEDIADJI_0605.JPG
Noku Resort-Maldives.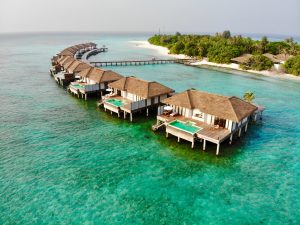 created by dji camera
Noku Resort-Maldives.
According to Chef Mohammad Tarique Aziz, hospitality industry is not that big, but culinary industry has a never ending learning process. Every country have their own food, they have different regions, different cultures, etc. etc. Everybody cook their own cuisines in their own way, so everyday it is nothing but learning a new lesson in this world of entire culinary industry. He even told about few dishes which Noku Resort in Maldives is known for. They are as follows:
a) Crab napoleon water melon jelly - local crab remoulade avocado, ravioli of yellow fin tuna.
b) Sesame crusted oyster saku tuna served with wakeme and wasabi soil (Thari Restaurent at Noku).
c) Lobster and goose foi grass ravioli with fresh artichoke (La Visa Restaurant in Sunset Beach).
d) Seasonal roast chestnut soup with foie grass, infused aromatic flavoured and Holland chest nut, shaved foie gras and cream of green apple foam.
e) Slice beef fillet- roast teriyaki glazes grass feed beef fillet, barley risotto cooked in white beef broth, handy cut vegetable, sweet ginger and light soy glaze.
f) Thai style chicken lollipop, beetroot crape roll with roasted celery root and chili lemon grass sauce (Palm Restaurant at Noku Resort-Maldives).
g) Crab salad with tomato agar agar cheese stuffed grapes, broccoli toast salmon mousse (Thari Restaurant in Noku Maldives Resort).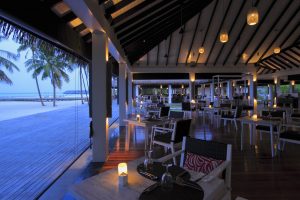 Palm Restaurant in Noku.
No one will ever believe that such a great chef has two interesting hobbies of cooking chaat with his friends and spending free time with his beloved family. He is the one who is known for being master in multi-cuisines such as:
a) French cuisine (modern and classic)
b) Mediterranean cuisine
c) Italian cuisine
d) Indian cuisine
e) Arabic cuisine
f) Thai cuisine
g) Mexican cuisine
If anyone wishes to taste the food prepared at Noku Resort-Maldives, feel free to visit that property and if one feels like knowing more about Chef Mohammad Tarique Aziz, keep reading REFT Today!
Interviewed: Chef Tarique Aziz
Interview Taken By: Khatibah Rahmat
Picture Courtesy: Chef Tarique Aziz
Place: Maldives.