As I have told you earlier in this women's day series' part one that how a single mother Asra Nawaz is sluggishly bringing revolution in this manly world and is trying day and night to give a great platform to all the ladies of the world to join her. Let us now read how this lady Sumaira Saif became the winner of this event, what did she cook, how did she beat rest of the contestants and won the title of Fearless and Flawless Women's Day Cooking Competition-2021?

Sumaira Saif a Delhi based complete homemaker and a mother of two children has now become determined to turn her passion for food into hardcore profession. She believes that, it is her passion for cooking multiple cuisines which gives magic into it. Whenever she goes through any new recipe, she simply loves to give it a try and twist of her own. The turning point in her culinary life came two years back when her daughter returned from school with utmost joy and she told her that her friends just love the food she prepares. Hence, she should open her own restaurant joint. Those were not just words to listen and to forget, Sumaira took it seriously and soon started her own homemade food venture with the name Hidden Kitchen. Now, she is known as Chef Sumaira! Standing ovation to her courage.
For women's day awards at Fearless and Flawless she prepared a very difficult and not so common dish of Mughal's era, which is fully loaded with nuts and spices. Her choice in selecting a particular dish made her stand out of the crowd. Well, in anyway if you are there in Delhi, then do try her absolute homemade food at Hidden Kitchen. I am sure you will love it! Some of her signature dishes are:
1. The award winning dish Murgh Musallam.
2. Chicken Nahari with homemade nahari masala.
3. Chicken Chargha.
4. Nargisi koftey.
5. Special kheer.
6. Butter cookies.
7. Republic Day special Tiranga Biryani.
8. Banana and Raisins bread.
9. Tutti fruity cake.
10. Chicken stuffed bread.
11. Freshly baked cinnamon rolls.
12. Breads.


RECIPE:
SPECIAL SHAHI MURGH MUSALLAM
Serving: 1 chicken 4 people
Prepartion Time: Approx 30 minutes
Cooking Time: Approx 60 minutes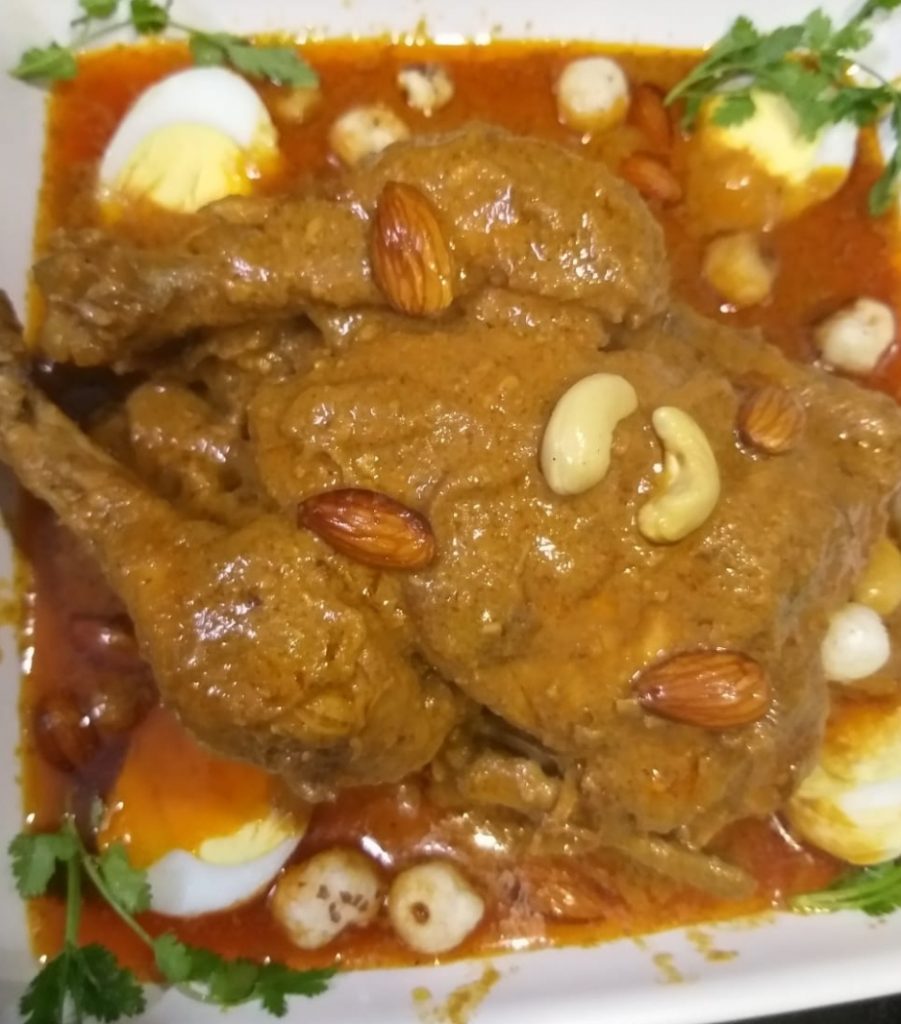 INGREDIENTS:
2 normal size chicken (preferably 800 to 900 grams)
1/2 kg curd
1/2 kg golden fried onions
1/2 kg oil for frying
8 eggs (optional)
3 lemon
5-6 tsp ginger garlic paste
2 tsp red chilli powder or according to taste
1 tsp kashmiri chilli powder
2 tbsp coriander powder
Salt as per taste
3 tsp poppy seeds
3 tsp coconut powder
25 grams fox nuts
50 grams almonds
50 grams cashews
2 tsp raisins (optional)
2 tsp homemade garam masala powder
1 cinnamon stick
4-5 green elaichi
2 black elaichi
5 cloves
3 tez patta

MARINATION
Take whole chicken and clean thoroughly from inside out.
Make big cuts by using knife or fork on chicken. Marinate with lemon juice salt and keep in refrigerator overnight or for two days.

STUFFINGS:
Stuff 2 eggs in each chicken tummy with dryfruits and tie both legs with threads.

GRAVY:
In a big vessel or wok fry onions and then cook until golden.
Shallow fry hardboiled eggs.
In another pan use pure ghee and fry makhana and then dryfruits except of raisins.
In a big vessel use 1 cup same oil (in which chicken and onions were fried) add all whole garam masala and ginger garlic paste then saute well.
Add chilli powder, coriander powder, salt and saute again.
After 5 minutes add curd and saute until water completely evaporates.
Now add ground fried onions.
Grind half fried cashews, almonds, half makhana, poopy seeds and coconut powder by adding 1 tsp of water.
Add all the paste in masala one by one. And again saute for 5 minutes.
Now add 2 cups of water and bring it to boil.
Place stuffed full chicken in gravy and cook on slow flame by turning sides. If required add more water according to requirements.
On top sprinkle garam masala, 1 tsp kewra water (optional).
SERVE HOT WITH:
Half cut eggs, dryfruits and raisins on top.


That was about our WINNER Sumaira Saif, hope you all have enjoyed reading about her love for cooking. It's time to wait for another contestant. Till then keep reading REFT Today.



INTERVIEWED: Sumaira Saif
INTERVIEW TAKEN BY: Khatibah Rehmat
Senior Journalist and Writer.
PICTURE COURTESY: Sumaira Saif.