When I received the invite from Mr. Tarandeep Singh to take the tour and taste the food which his chef and cooks prepare at his takeaway joint, I was more curious to know what makes them different from others? Mr. Tarandeep Singh began with the name, which is 'Ada Sigdi se' and it means; something of ones own style! They use 'sigdi', to prepare several food stuffs at their place and serve tikkas, kababs either like a roll or simply by serving these with different breads. They give rumali rotis, regular lachcha parathas and spinach lacha paratha. Each and every bread tasted fresh and nice but, I liked the spinach one the most.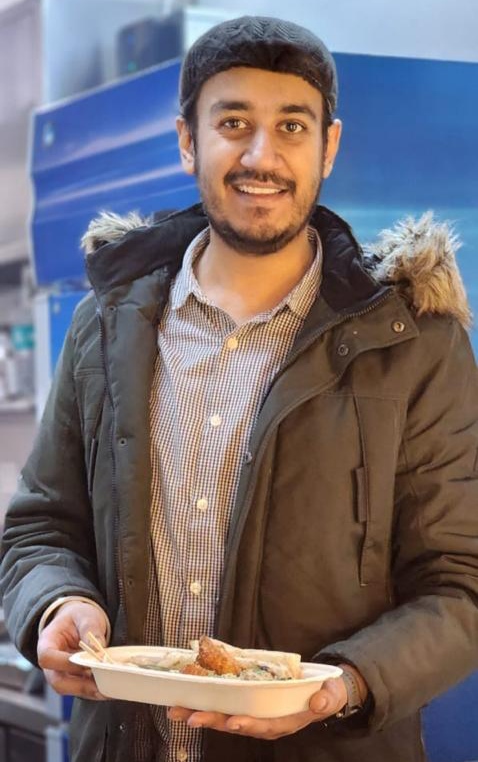 There were two types of Shami Kababs which were served to me and those were: Chicken Shami Kabab and Mutton Shami Kabab, amongst them my favourite was of course Mutton Shami Kababs. Then came four types of tikkas, regular tikka, Afghani tikka, shawarma style tikka and Andhra Chicken tikka. For me the Andhra Chicken had stolen my attention because of it's Creaminess of Coconut, infused curry leaves and sundried chillies, made it taste different from other regular tikkas. I still can feel it's taste and aroma. There are of course many other things in their menu, so to know all that, either you visit the joint directly or place the order on Zomato, soon they will come on Swiggy as well. There are many a thing for vegetarian ones as well.
Now, our readers and viewers must know about the person behind this beautiful idea and he is none other than, Chef Vikas Chawla, one of the most gentlemen in hospitality industry, who's work and thoughts both are always at it's perfection. He designed the entire Ada Sigdi Se, from the main front until the kitchen end, each and everything was brought to you by Chef Vikas Chawla. Not just this, he is the one who designed the entire menu, which is now loved by all who visit Ada Sigdi Se. Under the supervision of their head chef, Chef Farooq Ali, not just the food quality is maintained but, the hygiene level and cleanliness is also kept under consideration. So, what are you waiting for? Visit Ada Sigdi se now or place an order on zomato.
INTERVIEWED and PICTURE COURTESY:
Mr. Tarandeep Singh (Founder/Owner: Ada Sigdi Se).

INTERVIEW TAKEN BY: Khatibah Rehmat (Senior Journalist)