The Oriental Soup
The Dressings.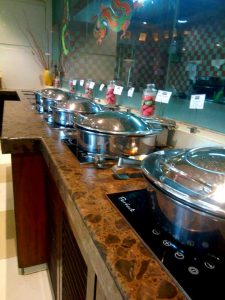 The Orienta Buffet.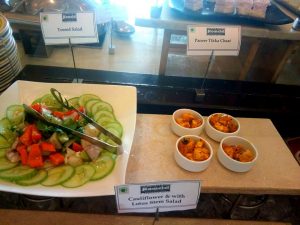 Paneer Tikka Salad.
Hotel Hometel has completed it's TEN DAYS Oriental Food Festival successfully which began on the 20th. day of July, 2018 and ended on the 29th day of the same month under the supervision of their Executive Chef - Chef Bidesh Biswas. Let's see what he says about the success of their Oriental Food Festival?
QUESTION 1:
So, being an Executive Chef over here at Hotel Hometel, of course you must be having more of responsibilities as compared to other staffs of the hotel.
As everyone knows food is always a backbone to any hotel or restaurant industry as well.
So, how far you take pressure within yourself?
ANSWER 1:
Being an Executive Chef, it has always been a great responsibility, as everyone knows that kitchen is the backbone of any hotel or restaurant. As I'm here at this position I have to look after several things such as food production, food services and food delivery to the customers. Not only this, being an Executive Chef I have to look after my team members in the kitchen as well, I even have to keep myself calm under great pressure because if I loose my patience, I may spoil the entire broth and at the same time the goodwill of the hotel.
If we talk about the beginning of the Oriental Food Festival then, I would like to tell you that we worked upon its menu designing and execution for 30-35 days, then we came up with a conclusion of putting it up finally. My team and I gave day and night to make this event a big success.
QUESTION 2:
In Chandigarh's main city, Hometel is known for organizing new food promotions everytime and it's always a big hit.
After coming with different styles such as: Awadhi Food, Street Food, Kashmiri Food etc, then why only Oriental Food that too as a Festival?
ANSWER 2:
This was the demand of our regular guests. We first asked for their feedbacks. Then finally we decided to give it a Pan Asian taste. We included Thi food, Chinese food, Indonesian food etc, to make it an Oriental Food Festival. Even after it's completion our guests are asking us what's next? It gives a great feeling to us when we get a valuable feedback like this.
QUESTION 3: What is actually an Oriental Food Festival all about?
ANSWER 3: Oriental Food Festival is like the combination of different foods for instance Chinese, Japanese, Thi, Singapore, Malaysian, Indonesian and a bit of Indian cuisines at one platform. If we will keep any one individual food then that in particular won't be called an oriental one. That will be known as Chinese or Japanese food respectively.
QUESTION 4:
Who came up with "THIS" idea very first at Hotel Hometel?
ANSWER 4:
When our guests kept on asking us that what are we going to introduce next, then we spoke to our General Manager about it. He then asked us to do the testing and the tasting both. Then we, as a team came up with this idea of putting up the oriental food festival.
QUESTION 5:
What is the point of bringing on Oriental taste to a city where spicy food plays a dominating role?
ANSWER 5:
Just to give new taste buds to our guests this rainy season! Everytime people get pissed of with the same spices and the regular food. They actually want to come out of the same Butter Chicken and Paneer Butter Masala everywhere.
QUESTION 6:
How come you know that this concept will work, within the people of Chandigarh, Haryana and Punjab?
ANSWER 6:
We did this festival to know how much people will be responding apart from our regular guests? The best part we came to know in these ten days was that, the general footfall also responded and showed us their interest into this festival. Like this we came to know that this concept actually worked and it has good chances of working in coming future.
QUESTION 7:
Everybody who is into this industry of food and beverages do wants to bring a rich "GASTRONOMICAL" experience amongst food lovers. Why do you think it's something new in your case of Hotel Hometel?
ANSWER 7:
We are just fulfilling the demands of our regular guests as well as of our new footfalls. Like this I believe we can easily get through the rich gastronomical change amongst our guests.
QUESTION 8:
For how many days it will last? THE ORIENTAL FOOD FESTIVAL! Do you think this could setup it's trend in anyway in 2018 or 19?
ANSWER 8:
The Oriental Food Festival was for 10 days, it began on 20th. July, 2018 and ended on 29th. July, 2018.
It may change it's trend in coming years as, everyone now wants to get a change when they move out of the house once or twice a week.
QUESTION 9:
What all were the dishes your team and you prepared in these "TEN" days or were they remain the same?
ANSWER 9:
We kept:
Six Snacks
Two Soups
Salads
Four to Five types of Oriental Deserts
Seventeen types of main courses and
Two to Three types of Indian cuisines were also there.
It was divided into 3 sets and was cycling in a way that kept on changing everyday.
QUESTION 10:
Say something about yourself or about Hotel Homtel? Share your experiences which you witnessed in all these TEN DAYS.
ANSWER 10:
I completed my hotel management in 2003 from a college in Kolkata, then I worked for several hotels and finally came to the Sarovar group and Hotel Hometel is one of them only.
Our General Manager and our Sales Department helped us a lot to make this event a great success.
I would like to appreciate the people of Chandigarh who trusted us and turned up with our new idea and all new taste. They were the main reason for the success of our hard work.
Last but not the least I would give my heartfelt gratitude and a very special thanks to my entire kitchen team who were there all the time to make it a great success!
NOTE: PLEASE SHARE THIS STORY ON YOUR WALL.
PLACE: Hotel Hometel - Chandigarh
EVENT: Oriental Food Festival
PICTURE COURTESY: Khatibah Rehmat
INTERVIEWED: The Executive Chef
NAME: Chef Bidesh Biswas
INTERVIEW TAKEN BY:
Khatibah Khatibah Rehmat,
Senior Journalist for Food,
REFT Today and
Ahmad Rashid
Special Correspondent,
REFT Today.