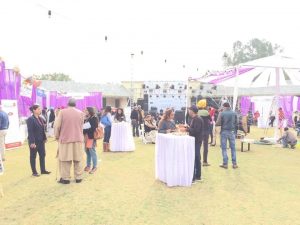 People started gathering at the event.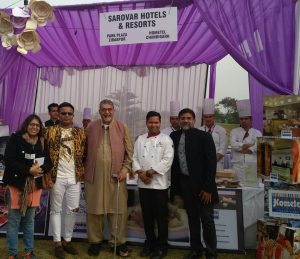 From Left to Right: Khatibah Rehmat(REFT Today Correspondent),Bharat Singh(Event organiser-The Travelling Kitchen), Avininder Singh, Executive Chef Bidesh Biswas(Sarovar Group-Hotel Hometel) and team mate- The Travelling Kitchen.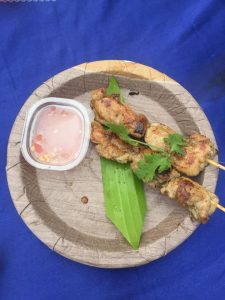 Barbecue Chicken
Since last one and a half month I was getting a pop-up on my facebook wall that, there will be an up-coming event which will be organised by Mr. Bharat Singh and team at Golf Course Association- Chandigarh on January 18, 19 and 20-2019. I was puzzled over this crazy name, that how a kitchen can travel? I mean to say a travelling kitchen? When I enquired about it then, came to know that it was a food festival where people were putting up a temporary kitchen of their hotel and restaurant under a large canopy at Golf Course Association ground with partial menu. A warm welcome was given by The Travelling Kitchen team at the entrance of the event which was making guests feel more positive.
Veg and Non Veg Dimsum
I was first informed about the event by Mr. Avinider Singh who is a retired from hospitality industry and a great blogger for food and beverages. No doubt he is a person who is one of his own kinds. For the same he travelled all through from Mumbai to Delhi to Chandigarh, just to be a part of Mr. Bharat Singh's The Travelling kitchen. As he entered into the premises of the Golf Course Association, the weather automatically changed, as in positive vibes flourished amongst the guests gathered over there. The band started playing loud, the hotels and restaurants came into their actual form and customers began flourishing over their stalls of food they were serving. I told you that Mr. Avininder Singh is a person with full of life in him. Imagine a retired person who underwent into a massive leg surgery was asked to be on complete bed rest according to the doctors, but his passion towards food and food industry brought him all through to Chandigarh. Young guns must learn a lot from this great persona.
Veg Spring Rolls
Many Five Star Hotel properties came up with their kitchens along with their tantalising dishes. Hotels from Delhi, Jaipur and Chandigarh itself joined the event-The Travelling Kitchen. Sarovar group of hotels, Hotel- Park Plaza-Zirakpur and Hotel Hometel-Chandigarh were seen at the very first stall. Hotel Park Plaza- Zirakpur brought up their specialised dishes to the people of Chandigarh whereas; Hotel Hometel came up with Fusion food, Mediterranean dishes and few of their specialised cuisines and deserts. The executive chef of Hotel Hometel, Chef Bidesh Biswas was a great help to we the media as always. He is unexplainable in simple words; Chef Bidesh is a very well-known chef of Chandigarh and almost a right hand to the Sarovar Group of Hotels here. A big man, a kind human with great heart is no one, but Chef Bidesh Biswas. He is always there with new ideas when it comes to food and food industry. Foodies must taste his food at least once and I am sure you will visit his place again and again.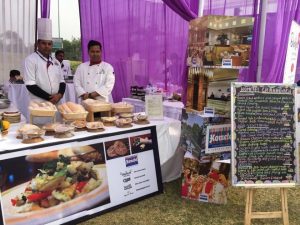 Chefs just began with their stalls in the morning and waiting for the show to begin.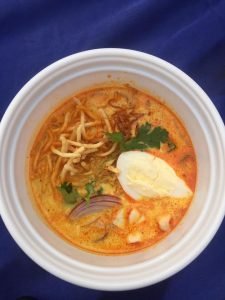 Khao Suey Soup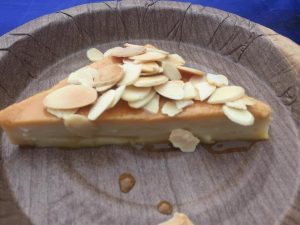 Caramel Custard. Utterly Butterlly Marvellous!!
Executive chef, Chef Nandita Karan was seen at the event, looking after her Baluchi Cuisine team as well as OKO the Japanese cuisine team at The Travelling Kitchen. They both won the hearts of the people gathered over there. Their seekh kababs with the rumalis and galawati kababs again with the rumali rotis remained the talk of the town for entire three days. Team OKO served several Japanese dishes to the people of Chandigarh and believe me they all turned mad over the taste. Once again I would like to say that The Baluchi and OKO of The Lalit-Chandigarh are one of their kinds, people must visit these places to pamper their taste buds. There were several other brands who hooked up over here. Like this Mr. Bharat Singh's second edition of the event- The Travelling Kitchen came to an end with people's love, care and great feedback. We hope for the same to take place very soon in another part of the country. REFT Today wishes him a great good luck for his life ahead.
EVENT COVERED By: KHATIBAH REHMAT
PICTURE COURTESY: AVININDER SINGH, CHEF BIDESH BISWAS, ANKITA THAKUR and
KHATIBAH REHMAT.