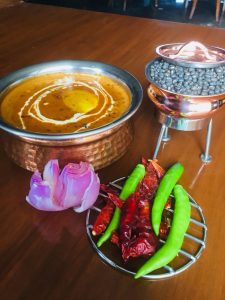 Dal Makhni by: Executive Chef Manpreet Singh.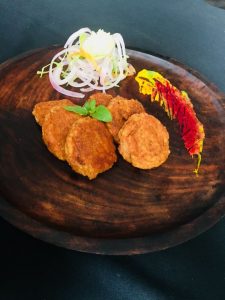 Shami Kabab by: Executive Chef Manpreet Singh.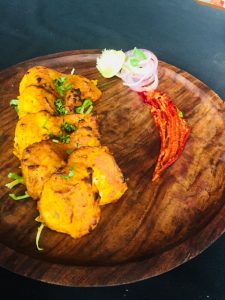 Chicken Tikka by: Executive Chef Manpreet Singh.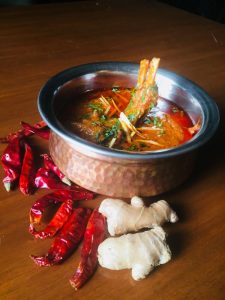 Mutton Korma by: Executive Chef Manpreet Singh.
Salads
Having an absolute classic personality with almost no cooking background except of taking birth in a Sikh land lord family of Punjab Royal Chiefs, was an Executive Chef at a Five Star property in Panchkula-Haryana near Chandigarh, named Holiday Inn. He is overloaded with multiple world cuisines and is known for Indian dishes. He believes that world can get world cuisines everywhere but, it's harder to find an Indian dish at every step. This is a commonly ordered cuisine worldwide but, handful of them can cook it in an actual way. So, according to him being an Indian chef is the best option to be known in this industry. He added that to get stable over here is no more a granny's story, world has changed a lot. The traditional cooking has entered more into the art of exposure of one's personality. The more people show their things off, they are more into this culinary world. He started his three years post-graduation diploma in hotel management in 2004. His cooking interest began very interestingly, when his uncles and other male family members used to go for hunting so, he being a little boy used to insist so that they may take him with them, after catching any animal he was used to put into work as an assistant over there in the jungles. Like this, little boy Manpreet one day became an executive chef Manpreet Singh. He has a very small family where his mother is a true home maker, father used to work with a well-known private organisation as a General Manager-North, a beautiful wife who is associated with Punjab University as accounts heads and a five years old technology lover very intelligent son (we all laughed).
According to Chef Manpreet Singh, it is a very enthusiastic and a challenging job for any chef to mark his or her presence in the market as it is getting tougher day by day and the entire industry is growing very high so, every day they come up with new ideas and innovations. The rustic food and old in-house ideas has finished now, it is all about creative mind, administration, communications, guest interactions, personality development etc. All in all this is how they come up and present themselves, chefs are now no more like those old cooks who used to prepare food with traditional ideas and common tricks, it is all a flashy lime light thing. He even speaks about his personality of being a Sikh chef which helped him a lot to get more recognition amongst the customers to prepare an Indian base. Earlier, there were very less Sikh chefs into this hotel industry, though many have entered by now but, he took the full advantage of it. He added that it was the best time for him when he entered as he received a lot of love and appreciations from people he used to serve. He started his kitchen with tandoori part then managed the whole sole Indian section.
Chef Manpreet began his career in 2005 from Taj Palaces- New Delhi as a trainee, then he moved to Sahara Ambi valley, then he joined Oberois White Flower Halls, then came down to Taj – Chandigarh, from he went to J W Marriot Chandigarh as a pre-opening team member, after completing that project he moved to Park Plaza Chandigarh Sector – 17. From there he worked as a level of number 2 and he was promoted and sent to Park Plaza Fareedabad as an Executive chef. Working there for few years he moved to Ahmadabad with Eastern Hotel which is now known as Renaissance so he transformed that property for Marriots. Later, he joined Holiday Inn as an Executive chef. This was his 13 to 14 years of enthusiastic and remarkable journey in food industry. This was not the end when he quit being an Executive chef, people may call Chef Manpreet crazy for leaving this prestigious position and has started his own company named Hospitality Executers, and there he will be promoting the food of the undivided Punjab. See, that sounds so great, he did his assignment with the Dhaba of Claridges – New Delhi and is now moving for another part of his work to Hydrabad. He will be known as Tikka Manpreet Singh, as he he known to be a man of tandoor. Now, people's eye is upon this chef who listens to none but to his own heart. Entire world of culinary industry wishes him all the very best for his upcoming project.
INTERVIEWED: EXECUTIVE CHEF MANPREET SINGH
INTERVIEW TAKEN BY: KHATIBAH REHMAT
SENIOR JOURNALIST FOR FOOD
PICTURE COURTESY: EXECUTIVE CHEF MANPREET SINGH