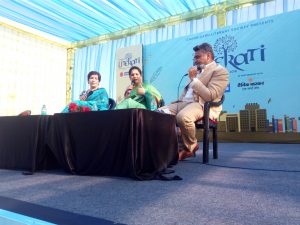 From right to left: Chef Rajan Bedi, Pankaj Bhadouria (middle) and Chef Kandla Nijhowane.
Chandigarh literary society organised a two days event named LITERATI, on November 17th. and 18th-2018. Several sessions of different literary societies took place and presented their own things. Many poets, panellists and story tellers were seen there sharing the stage. Day two went more happening when three very famous chefs shared the mikes as well as the stage and told several things about different ingredients and also added when to use what? Master chef Pankaj Bhadouria, master chef Kandla Nijhowne and chef Rajan Bedi of Rajan ki Rasoi were there to tell the audience what food or vegetable is good and in which season. Kandla Nijhowne the semi-finalist of master chef India -1 told about Alsi which she said, should be chewed in 32 bites whereas, the same thing should not be consumed in summers as its efficacy is very warm and can affect a human body.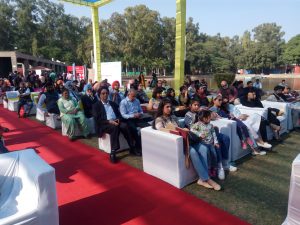 Audience deeply listening to the tri-chefs.
On the other hand master chef India-1 winner Pankaj Bhadouria asked people to eat seasonal vegetables only and not to use the off season vegetables which is available all through the year. Chef Rajan Bedi added, like aaloo-gobhi was cooked in summers when they were kids but now gobhi is available round the year which is really not that good for health. They spoke about this basmati rice' as well, which is not organic and all such rice productions should not be trusted that much. This session of these admirable and intellectual chefs lasted almost for an hour and people not just enjoyed but, I realised that they could listen to them more. Well, all three chefs were awesome and shared a lot of knowledge to the people present at the Lake Club Chandigarh.
Picture Courtesy and Reporting done by- Khatibah Rehmat.