An amusing personality with no interest in going with regular and highly common studies like medicine or engineering of any category, despite of belonging to an upper middle class family of Jaipur, where every second person is a doctor. He wanted to do something different from these things so, did a lot of research and used his one year with no studies but, managed to grab a new course (then) called hotel management. It was not that common at his time as it is today. He became so passionate after joining IHM-Gwalior that he often used to bunk his front office and housekeeping training, just to elongate his most of the hours in cooking section. Though, earlier he was not sure enough that whether he will be joining the kitchen or not but, this spark was lightened into him when he joined the Oberoi group of hotels-Mumbai and Trident-Udaipur, where he did his practicals. Yes, I am speaking about the mastermind and mind blowing chef, Chef Toshit Sharma of Rational-Gurugram. He added that the hunger to become a successful chef was not actually that stress-free, it not just took time but, also took a lot of effort to reach to a milestone of his career.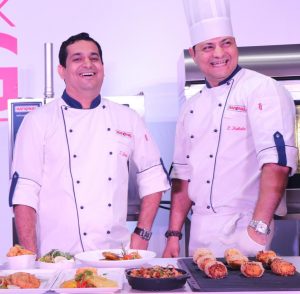 Chef Toshit with Chef Kathahe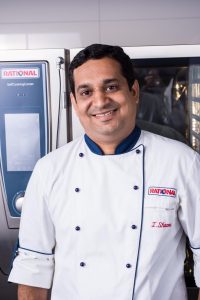 Chef Toshit Sharma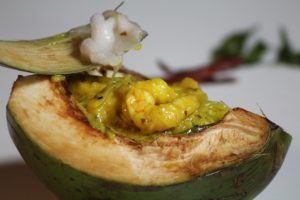 Coconut Prawn Curry
This food industry takes a lot of time from those who love to learn and serve best of best to the world of foodies, despite of being so busy in the kitchen, Chef Toshit Sharma told REFT Today that apart from cooking he loves swimming and spending time with his family. He was always a beloved chef to almost all his guest counts in six countries he has worked with. People love to have his cooked food, while working with Rational, he is being praised with the consumers when they get key solutions and also get recognition from the celebrities at world front.
Toshit has been recognised for his work:
1. First position in Chef's competition at IHM-Gwalior, 2004.
2. Second position at Banarsidas Chandiwala Chef's competition, 2005.
3. Employee of the month- Oberoi Hotels, 2006.
4. Employee of the month-Four Seasons Mumbai, 2008.
5. Employee of the month-The Setai, Miami-USA, 2010.
6. Manager of the quarter-Sarovar Hotels, 2011.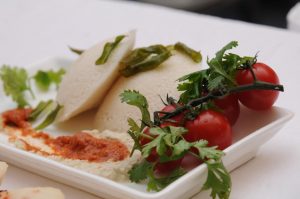 Idly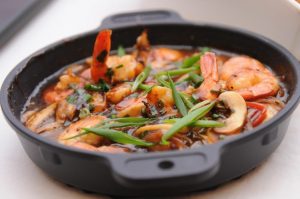 Stir Fry Soya Ginger Prawns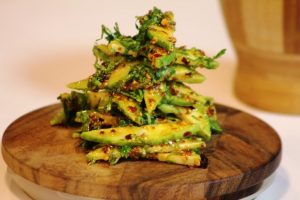 Pickeled Cucumber
In most of his assignments Toshit was assigned as an Indian chef in different five star properties world wide. His key job at Rational is to do research and development on local traditional dishes which could provide a hassel free and easy solution in today's kitchen. Let us now come to know about those dishes for which Chef Toshit is known, though the list is long but, few are mentioned over here:
a) Sarson Mahi Tikka
b) Coconut Prawn Curry
c) Lehsuni Palak Soya
d) Pickled Cucumber
e) Stir fry Soya Ginger Prawns
f) Ajwaini Paneer Tikka
g) Idly
h) Peetiwali Aaloo Tikki
Lehsuni Palak Soya
For Chef Toshit, a signature dish is the one which has been loved and delighted by the guests as, whenever any chef cooks food that is always filled with same devotion and passion. So, calling any particular dish a signature one won't be wise enough for another platter full of food.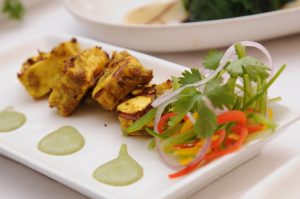 Ajwain Paneer Tikka
Interviewed: Chef Toshit Sharma
Interview Taken By: Khatibah Rehmat
Picture Courtesy: Chef Toshit Sharma
Place: Gurugram, Haryana-India.