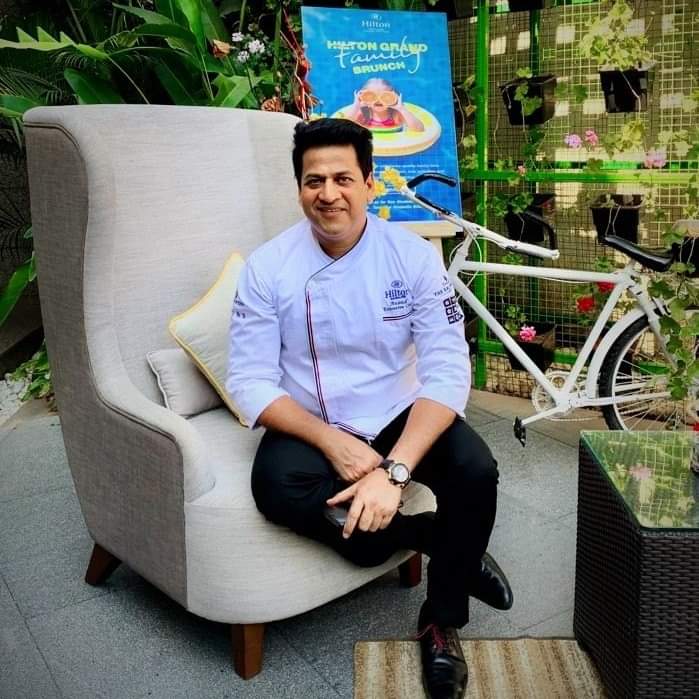 REFT Today's talk show and interview conversation of Khatibah Rehmat and Executive Chef ANAND KUMAR of HILTON BANGLORE EMBASSY - GOLFLINKS on GREAT CHEFS, GOOD FOOD: By Khatibah Rehmat.

TOPIC:
HOW TO GET GUESTS AFTER THE OPENING OF FIVE STAR HOTEL RESTAURANTS, POST PANDEMIC?

1) People are in panic and scary situation these days which will be difficult for your regular guests as well as for the walk-ins to come to your place, so my question to you is: How are your team and you will build up the lost trust and shall make a comeback?

CHEF ANAND: By keeping health and safety as top priority by taking numerous steps to keep the hotel areas clean and germ-free, practicing in social distancing by everyone and also by using PPE kits.
Marketing the changes which we have done operationally for the safety of our guests and of the team members. Communicating on steps such as, sneeze guard installation over buffet counters and team member assisted service over buffet. Menu's and option of contactless payments. Temperature checks for our guests will be done.

2) These days five star hotel properties have come under a brand called covid 19 beds or corona centers, so will that be one of the reasons for the guests to feel scared? How are you people going to manage this situation?
CHEF ANAND: We have not taken COVID 19 quarantine business due to the location of the hotel. 30 k people, EGL.


3) What measures is the hotel going to take in terms of sanitizing and cleaning of the premises?
CHEF ANAND: Using WHO approved disinfectant in sanitizing and cleaning the premises.
We have also identified frequent touch points around the hotel including restaurants and we have increased the frequency in disinfecting those areas.
Sanitizing tables with disinfectants after the use and we will avoid using the same table for the meal period.
We are using mist sprayer which allows disinfectants to be sprayed out as high speed mist particles on the surfaces.
We have also built a shoe sanitizing machine which is placed in guest entrance and in team member entrance which is one of its kind.

4) How the coming of guests going to be checked so that the staff may also be safe and secure?
CHEF ANAND: Sanitizing hands and footwear,
Sanitizing bags,
Guests wearing masks,
Temperature screening.

5) What if the hotel did not get a presentable amount of business as they used to get in those normal days, then what strategies will the five star hotel restaurant team will make?
Chef Anand: Food box deliveries at home.
However, we are confident that the steps we have taken will ensure the desired security for our guests.

6) Can you please tell a traditional mutton recipe to our viewers?
Chef Anand's recipe: Mutton Jalfrezi
Ingredients Quantity
Mutton, cut into cubes (1 kg)
Cinnamon (1 stick)
Cloves (2-3)
Cardamoms (1-2)
Green chili chopped (4 numbers)
Onions cubes (2 large)
Tomatoes, cubed (2 large)
Red chilli whole (10 nos)
Black pepper (½ tsp)
Cumin powder (½ tsp)
Garlic, chopped (2 tbsp)
Ginger, chopped (2 tbsp)
Mustard Oil (4 tbsp)
Coriander leaves (3 tbsp)
Salt to taste
Method of preparation:
Heat the oil
Add whole garam masala, whole chili
Add mutton cubes, salt and make it brown
Add Ginger and garlic chopped cook it further
Add onion green chili and tomato
Add hot water if needed for cooking
Add all the dry spices and cook further on a Slow flame
Make it dry 
Finish with chopped coriander.

7) Last but not the least I would like to request you to kindly describe a bit about yourself, so that our viewers may also come to know about you. (Stating your name, birthplace, family and education).

Chef Anand: I am from a very small railway township called Chittaranjan (West Bengal) known as CLW (Chittaranjan Locomotives works). I have done hotel management at IHM Kolkata, batch 2002. Selected for Kitchen managements trainee for JW Marriott Mumbai. (The first Marriott hotel in India).
Post that I switched my brand to Hyatt and started working with Hyatt Regency Mumbai and was there for good 11 years where, I have worked in all the levels of positions. In the year 2014, I was told about a new assignment at Hyatt Hyderabad as an Executive Chef and worked there for 5 and a half years. And After very long I thought of Shifting the Brand and thought of world's best brand and that was Hilton Worldwide. Got various awards, featured in the chef post calendar for 2020.


Interviewed: Executive Chef ANAND KUMAR
Interview taken by: Khatibah Rehmat
Picture Courtesy: Executive Chef ANAND KUMAR