.....and his father learnt cooking from one of his Muslim friends when he used to live in Rawalpindi - The undivided India (then), now a part of Islamic Republic of Pakistan. Destiny played a topsy turvy game with Harjinder Singh whose father came to a new India after division and started selling food on a road side cart for their livelihood. Later, he bought a dhaba but, lost his vision due to very high level of sugar in his body. Nobody could stop him making food as, he used to do all the preparations in the kitchen simply by smelling the ingredients. His dhaba started becoming popular day by day but, fortune was somewhere far far away from him and his family. His father's health started decomposing and being the only child in the family who could work for everyones livelihood, Harjindar decided to drop his studies just after standard twelfth. So, it was obvious that he didn't have any formal education in the fields of hotel management. He learnt cooking from his father only, since childhood Harjindar used to watch him doing something or the other in the kitchen.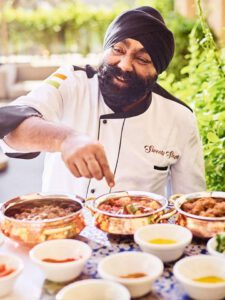 Chef Sweety presenting his Punjabi Cuisines.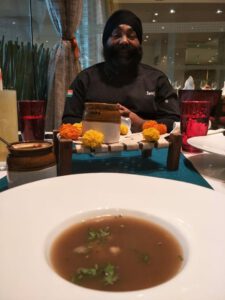 Chef Sweety presenting his prepared soup.
This is very true that God never tests anyone more than a their power so, He did the same with Harjindar. Many years passed away he used to work really very hard into his dhaba. It was the year 1999, when someday the corporate chef of ITC Maurya-Chef Manjeet Gill visited his place and tasted the food which he has prepared. Chef Manjeet was so pleased with the taste that, immediately he asked him if he could do a promotion for Punjabi food in Chennai? That was not just an offer for him but, was a hard core turning point of his entire life which actually made him Chef Sweety with gifted hands! From a simple man Harjinder who runs and used to own a road side dhaba has now become Chef Sweety. Since then none could have ever stopped this chef in making so many tantalizing dishes for several guests. Celebrities of many industries have even tasted his prepared food and praised him for his blessed hands.
Chef Sweety entertaining one of his guests at the dinner buffet.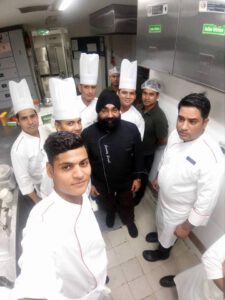 Chef Sweety and his most lovable team.
Chef Sweety feels wonderful and privileged to be working in this world of culinary industry. His passion increases each and every day while he prepares any dish for his customers and serving them with absolute love. He added that, he can never ever even imagine his life without preparing food himself. He spoke about many dishes which he prepares but, few are his signature ones and they are as follows:
Zeera Kukkad,
Sarson ka Saag,
kadhi Pakoda,
Nalli Ghost and
Panjiri.
Chef Sweety added that, though he has never been awarded on the stage for the food he cooks but, he is highly appreciated by the customers who try or even eat his cooked meals. When he was asked about their love for his food then, he added that the main reason for the same is that he never uses cream or ground dry fruits for any cuisine. In fact, he makes the onion and tomato paste as the main base. According to Chef Sweety, this gives an authentic flavour to any dish. Well, if you want to know more about this chef then keep on reading REFT Today.
Interviewed: Chef Sweety
Interview taken by: Khatibah Rehmat
Picture Courtesy: Team Chef Sweety.