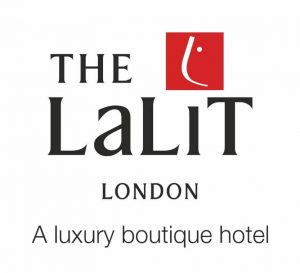 Logo- The Lalit London
Chef De Cuisine - Jomon Koriakose
Chef De Cuisine - Jomon Koriakose plating Baluchi cuisine in London
Baluchi cuisine in London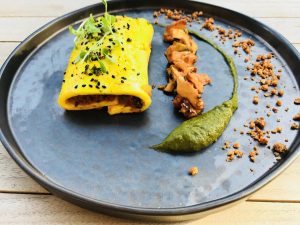 Baluchi cuisine in London
A person living for his livelihood in the land of London and believes that he is made for Indian cuisines only! Born in a place of spices, which is also well known for it's tropical climate, i.e. Kerala-India. When he was a kid then his grandmother and mother used to cook some food in the kitchen, it was more or less like a festival to him. Every morning they used to pluck fresh vegetables from their kitchen garden which was at the back yard of their house. From there he came to know about the importance of using fresh vegetables and other ingredients for a perfect and healthy cooking. Since that tiny age he became passionate enough to make cooking as his upcoming career. After completing his school, he joined four years graduation course of hotel management from where he learnt umpteenth dishes to cook and several methods to execute and to bring them up to real perfection. Later, he did his internship from a five star property in Dubai. He got a campus placement even before completing his graduation course, where he was offered to work with a leading Indian restaurant and was trained by Chef Sandeep Pandey and had turned himself as one of the masters of Indian cuisines.
Jomon Kuriakose, very well known as Chef Joe, is working with The Lalit- London as Chef De-Cuisine. A person who picked up the role models from his home itself-his grandmother and mother. Jomon used to live in a joint family where he had grandparents, parents and brother. Later, he got married to a beautiful hearted lady who made him a proud father of two beautiful daughters and third child is being expected somewhere in the middle of September, 2018 (prayers needed). According to him, he is a super family man who loves biking and ride maximum of the times with his wife. She has always been a supportive system for his entire career. Here, he is having a bunch of fun loving life where he has hardworking Kitchen Brigade and Executive Chef, Chef Santosh Shah. Joe added that he has given him a free hand to research on new ingredients and to discover new dishes to enlighten their Baluchi Menu.
There is a lot more to read and to know about this dynamic chef, who believes in the saying of Virgina Woolf that, one cannot think well, love well, sleep well, if one has not dined well.
He is actually unstoppable and thinks to be:
Creative,
Not to hesitate in trying new things,
Be motivated always,
Last but not the least he believes to be happy and to spread happiness all over.
Chef Joe, first stepped in the lands of London in the year 2008, working with an authentic Indian Restaurant named Bombay Palace where he got a position to work as a CDP. There he learnt a lot about Indian cuisines and how to mingle it up with pure British culture. Later, he joined the Cinnamon Restaurant there in London itself, where he was appointed as a CDP once again and in few years of experience he was promoted as a Sous Chef and was introduced with modern Indian cuisines. He got a great help and support from his Head Chefs and the guidance of Esteemed Executive Chefs and CEO Mr. Vivek Singh. This place has taught him a lot of lesson, which made him lead a successful life.
Let us now come back to the Baluchi section of The Lalit-London, where Chef Jomon Kuriakose is working as a Chef De-Cuisine. Here are few of the signature dishes prepared at the restaurant of The Lalit, let's have a look at them and control our mouth filling with water (I giggled):
a) Grilled Tofu: Served with Karnatakan Coconut Sukka and Super seeds.
b) Paneer Cannelloni: Thin Paneer Steak rolled and stuffed with Soya Keema and served with Cashew Crumble and Fenugreek Sauce.
c) Kamal Kakdi: Lotus roots in two ways (grilled and fried), Edamame Beans, Girolles, Beet Crisp , Coconut and Fennel Foam.
d) Bharwan Zucchini: Stuffed Courgette Flowers with Achari Paneer Beet Curried Yogurt and Pickled Garlic.
Chef Joe is responsible for inventing new and exciting dishes where he continuously enhances the menu, as well as leading the kitchen team on a day-to-day basis. Here, his decades of kitchen and cooking experience is being shown. For him, he always belongs to Food and Food Industry. According to Joe, anyone can feed anyone. But, he look forward to create an experience into each and every diners' soul, whom he meets and feed. He even takes the cookery master classes and do Fusion Food with Indian influences. The lavish Lalit has a lot of chains of hotels round the world and they have graphed everything in a way that their guest counts love their food and make a stay over here. I'll end up by telling last few lines about Chef Jomon Kuriakose that he is a curious and a committed chef who focuses more and more upon his Modern Indian Cuisines with NO compromise on the authenticity of his dish in terms of taste, colour, flavours and cooking techniques. He says that he actually BELONGS to different Indian cuisines and being from the Southern part of India, he has the base of South Indian Food and more concentrated to North Indian one which includes Tandoori cooking, Curry preparations, etc. That was all about this joyous chef/human, who believes in many beliefs of life so that he may live a happy and adventurous life today, tomorrow and after.
INTERVIEW TAKEN BY: Khatibah Rehmat
INTERVIEWED: Chef Jomon Kuriakose
PICTURE COURTESY: Chef Jomon Kuriakose.
SPECIAL THANKS: To the MARKETING TEAM of The Lalit London.