Chef Michael Swamy.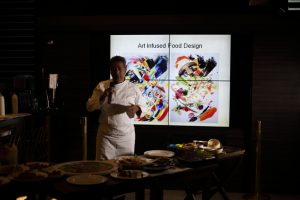 Chef Michael Swamy showing the food art.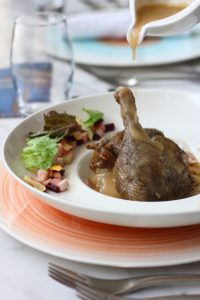 Food prepared by Chef Michael Swamy.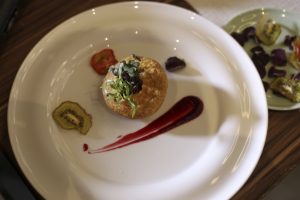 The food prepared by Chef Michael Swamy.
When grey clouds scatter and new light comes out of that, that light itself is called Chef Michael Swamy, If not for all but, for his mother and for himself. A man with consistent personality, all-rounder in almost all spheres of life and is never the less a Sachin Tendulkar in his own world, is a celebrity chef, a photographer and a writer since childhood. Chef Michael Swamy is a proud son of a documentary making mother is known for his in numerous skills, who popularly prepares French cuisines, South American, Regional Indian and Spanish has completed his culinary studies from Cordon Bleu Culinary School, London, which is one of its kinds in United Kingdom. He has been trained under several Chefs there who has observed his work closely and encouraged him to enter the world of Food Media. Michael has done his specialization in Bakery and Patisserie. Chef Michael Swamy is never meant to sit back and his culinary expertise has enabled to take his food styling and photography to a new level of refinement and global appeal. His very own cooking style has further evolved into progressive Indian Cuisine. Also, bringing together the best of classic French culinary techniques to traditional Indian flavours. His favourite dishes are: i) Tea infused Chicken; ii) Salads called Earth, Sky and; iii) Andean Mountain dreams to Parched are some unique desserts.
World of food industry is a wonderful world says Michael. He believes in giving and hardly expecting anything in return, one thing he has learnt from his time in London that, life is about sharing and also about having time for one own needs and self. Apart from cooking Chef Michael Swamy loves photography, wild life and travelling. He has bagged several big awards in his pocket. I'll name three Gourmand awards such as; i) The East Indian Kitchen; ii) Comfort Food and; iii) Rare gems; iv) Has been awarded a scholarship at Le Cordon Bleu; v) Been facilitated by several chef organisations; vi) Three Gourmand awards from France, for writing 3 cookbooks and lastly; vii) Received best food photographer from India. Here, it's not the end of his culinary career, this world of food and foodie industry need to know more and more about this all-rounder chef, Chef Michael Swamy. Let's move towards and know about few of the food shows he has done: i) Handled master chef India season 1 and 2; ii) Sanjeev Kapoor ki Khiladi and; Twist of Taste two seasons. He has been associated with: i) Hotel Noon PLC- U.K.; ii) Bombay Brasserie- U.K. and; iii) Kuwait Airways. This was the most happening and hilarious journey of a mind-blowing chef who is also a mumma's boy but, not at all a spoil spot, yes he is no one else but a celebrity chef, Chef Michael Swamy.
INTERVIEWED: Chef Michael Swamy
INTERVIEW TAKEN BY: Khatibah Rehmat
PICTURE COURTESY: Chef Michael Swamy.