Roasted Lamb Rack with Baby Root Vegetables.
Lamb steak with grilled bell peppers, vegetables and dill on top.
Asparagus salad with green and mint Hummus.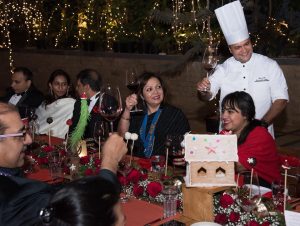 Chef Anurudh speaking to the guest counts in his special way by releasing a beautiful smile on his face.
Normally, when kids grow up and reach somewhere towards intermediate classes, then their parents become more specific about their studies, careers etc. Sometimes, children themselves are so focused that they don't need anybody's prior guidelines as such, they find their own ways that lasts with great career, life and happiness ahead. Was Anurudh Khanna like unbelievably confused, unfocused or someone really derailed in his early teens only? I'm sure enough that his parents would have really been worried about his selection of subjects so that he may get a blasting career like other children. But, I guess nobody could have ever solved this riddle till the date! A little boy who was born in most advanced city of Haryana named Gurgaon (now Gurugram), who thought, he has kept a particular goal in his life and will surely go into Indian Army and will become a fighter pilot but, somehow that didn't work. Then he opted Biology in his intermediate and thought of becoming a medical student. This once again became a 'bye bye' thing to him. Finally, Anurudh gave an entrance exam of Bachelors in Hotel Management. Fortunately, he got admission into it but, he was not very much interested in cooking or in anything as such. Just imagine a little boy who traveled so much round the country and changed so many schools because of his father's transferable bank job, could not find his future which was actually revolving around him, how?
No one could have ever imagined that THIS boy will become "A Brand" one day and will be known as-The Executive Chef Anurudh Khanna and will be serving world at Shangri-La - Bangalore (now Bangaluru) with his amazing finger licking cuisines. This is the same person who didn't like cooking even when he reached in his last year of studies and had to choose one stream just to opt that, as a compulsory subject. What he did best was that, before becoming a professional chef he focused on completing his course. He did his bachelors from IHM Simla - Kufri. No doubt a vast transformation came into him which changed his life so much that made him a man of true honour. Today, it has almost been EIGHTEEN YEARS for him to be in food industry and cooking like anything. Chef Anurudh says that, it is not just a passion, career or a simple duty for him to cook but, it gives him strength and utmost positivity by being into hotel kitchens and it is like a bliss to him.
Anurudh is a very simple man with great morals and values in him. He loves adventure and is a sports freak who specifically loves soccer. There are other enthusiastic things which Anurudh is more interested in such as, wildlife photography in his leisure hours so because of this, he loves spending time with nature as well. His simple system in life is not that complicated, he added that whatever situation comes and goes he loves solving it by simply passing a beautiful smile on his face. This proves that he is an easy to go person. When we speak about his philosophies on food then again, that is more of simple sort that, one should connect more towards nature and try to revive the recipes as authentic as possible with modern presentations. He further says that a good chef should be in harmony with nature and stay rooted with the recipes of local flavours and shall give natural colours to food.
When I became more curious about knowing Shangri-La's restaurants, then Anurudh told many interesting dishes about it and I was like counting them on my fingers and he was like speaking, speaking and speaking. You don't believe me? Then see! For instance, they have a wide range of restaurants within their premises and everywhere they have a different significance with their signature dishes. Let's begin now: They have their Chinese restaurant where they serve Beijing Duck and Mapu Tofu as signature dishes, at their Italian restaurant Caprese, Pizza with Truffles and Tiramisu are signature ones. Sushi, Nigari, Yataii and Saffron at Japanese restaurant. Let's come to their Indian restaurant section where Bhatti ka Murgh as starter and Rangoli kulfi as dessert are eminent signatures. Listening to all this was like more than mouth watering to me, even after having a heavy lunch at that point of time (I giggled). Just wait for a moment, here is some more at Shangri-La, their all day dining restaurant, The B-cafe where Nonya Laksa and Singapore Chili Crabs are signature dishes.
Let us now move towards few specializations of this amazing chef: Chef Anurudh Khanna!
He is actually know for his Italian cuisines, though he has a long list of Indian dishes as well, we'll talk about that furthermore but, let me complete with the Italian ones first.
Chef Anurudh is a trained Italian chef who believes in modern day Italian cuisines, where his signature dishes are:
a) Salad Caprese,
b) Pizza with Truffles,
c) Lobster Linguine with Lime and
d) Octopus Carpaccio with Lavender dressing.
I mean to say he was all set to kill me by bringing flood into my mouth (I laughed). The style of this chef is also to do something extraordinarily different with modern and progressive Indian cuisines, though in particular he loves the Vegetarian and Vegan cuisines a lot. Well, his list of Indian styles are:
a) Cottage Cheese with Kalamata
Olive Jam and Relish,
b) Karele ki chaat,
c) Baingan ka Bhartha in Crisp Shells, d) Beetroot Kababs with Bajra salad and last but not the least
e) Pan Patta Pulao,
all these are Indian dishes which he tries to concoct and present it to the world. I am telling you people again and again that this is not all about Chef Anurudh Khanna, if you are curious and want to know more about him then wait for his second part of interview. Till then continue reading #refttoday.
Interview taken by: Khatibah Rehmat
Interviewed: Chef Anurudh Khanna
Picture Courtesy Chef Anurudh Khanna
Special thanks to: The Shangri-La's entire team for their lovely cooperation.