Biggest award bagged— THE MICHELIN 2019.
GREAT CHEFS, GOOD FOOD with Executive Chef Dayashankar Sharma_23.

REFT Today's interview conversation of Khatibah Rehmat and Chef Dayashankar Sharma from Grand Trunk Road Restaurant—London, United Kingdom in it's Exclusive Talk Show—GREAT CHEFS, GOOD FOOD and the topic is: FROM THE DUST OF INDIA TO THE LAND OF LONDON; THE LEARNING MARKS OF CHEF DAYASHANKAR SHARMA.
1) Tell us about yourself; how did you begin your career? Stating your birthplace, education and all rewards you get in your culinary career.

Well my name is Chef Dayashankar Sharma. I was born and brought up in Rajasthan and pursued my studies from Rajasthan University. When I was young, I used to watch my mother while she cooks in the kitchen, I was always beyond her. As I turned maturer that pastime shifted to a passion and I chose to enrol into food industry so, I opted for the Hotel Management Diploma. The unique skills I acquired not only driven my passion, but also let me reach new expertise directing me to varied lands like Sri Lanka, Switzerland, Dubai and now the UK. I served several prestigious hotels like the Oberoi group of hotels and the Taj group of hotels in India for years. I further served Taj Samudra, Colombo for 3 years, there I seized a chance to sweat for SAARC summit accompanying handed-down Chef Satish Arora. I served in Michelin star restaurants and have prepared for high profile stardom events and likewise uncovered an eatery named Grand Trunk Road amidst an associate in November 2016. Considering later the restaurant owns 11 awards. I won numerous citations throughout my profession, freshly conquered the title of Best Chef at the Asian and Oriental Chef Awards 2020.
2. How young were you when you thought of becoming a chef and what made you focus on the career till date?

Chef Dayashankar Sharma: From a pretty tender time, I started practicing cooking besides my mother. While I turned more experienced, the way she handled, they ignited me. In India, nearly every family prepare all meals from the scratch; from breakfast to dinner. Thus, there was plenty to notice! Moreover, at festivities batches of desserts and celebratory feasts made, implied more excitement. The sense of feeding somebody seemed such fulfilling that I weighed food as a dormant profession. When I was 18, I demanded to pick a profession that can make things resolute for my future. I decided to opt the medicine pathway, but later shifted to hotel management. Your parents aspire to witness your growth. You can't perceive victory in one heyday. I eternally crave to possess a remarkable career—plus mark an impression out in the world.


While working in the kitchens, you are playing with the fire; no one wants to dirty their clothes, everyone wants to be managers. One must be patient enough. Remember, it is the baby steps you take that head to unleash the potential progress that you're striving. I grasp how challenging it can be to see all of the little things done, while still shaping step to your aims. Any heydays, it can feel like you're sinking in minutia, wholly cut from the prominent work that you undergo to do! But no matter what you're feeling, thou can plan the career of your hopes. One choice, one task, one focused, productive workday at a time!
3. There are many hindrances in your path, did you ever feel to quit? If yes, what or who inspired you?

Chef Dayashankar Sharma: Somebody flew in the mid-way journey. It is not straightforward to become a culinary artist. Does whither and wherewith thou crave to focus? Your consistency, creative and innovative mindset matters. It is indeed a finicky trial. You will encounter a lot of challenges and demanded to work in absurd hours. As long as it is something you love, and truly enjoy one cannot go reverse. Don't skip the dishes that has to savour high-grade competency. Exert the chances the world fires at you and nevermore stop rectifying your proficiency and form of cookery. Holding a culinary artist you need to think— "How you can revamp recipes, renew something, traverse the authenticity of foods? Attach your heart to the recipes according to the need of the world. And, from the panorama of health as well."

In the spirit of hearts, one must know what their big goal is. And you ken what it will necessitate getting there. But recapturing that often means taking a time—out from rest of the work you're doing. When you're feeling bewildered, take a moment to sigh deeply—Stretch, Recharge, Reload. If you admire your profession you will nevermore settle for it. Perpetually, admire anything you do. Never look backwards. Put your best efforts. They have to build within you; hard work and smart work. Remind yourself of the bigger picture—the dream you're working toward and get an epistle to envision it. See it and feel it. Let the dream be luscious.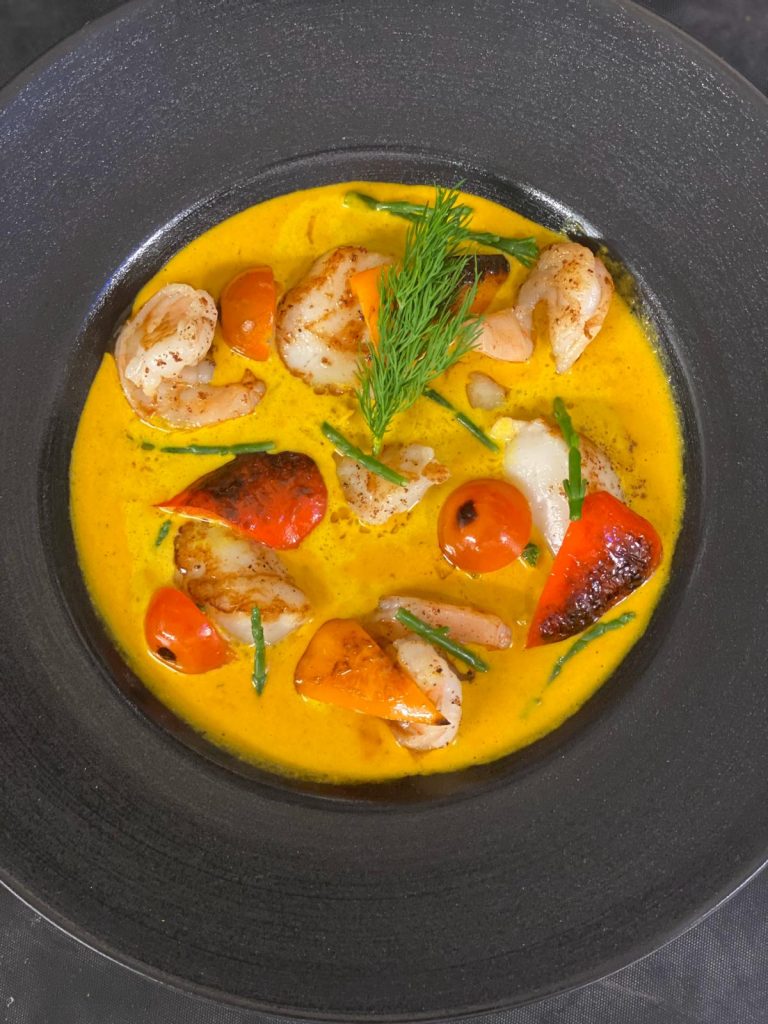 4. What made you go through the dust of India to the land of London? Tell us about your learning.

Chef Dayashankar Sharma: I was born in a small village named Bhojpura Kalan nearby Jaipur, Rajasthan. My grandfather was a farmer, my father was a government employee and I aspired to turn something diverse from the family education. To justify me, it conveyed me a doom to strike out to the metropolis. I do not hold adequate resources, I fancied high ideas. Accomplishing them is my prerogative. Always do something where success follows you. People will get to acknowledge you from your work. Once you are acknowledged, you will get the recognition. Life is about uncovering new ideas. In a cook-off competition among twenty of the industry's top names, my dishes were cherished by the authorities. So I know what I'm working towards and I know what I need to do, right now to move a few steps closer. Here I go!
The excellent thing in another nation is that all the happy faces will complement your preparations, holding the power to be able to reach the way of cooking of your land is mind-blowing. It heats my soul and prompts me to cache on inventing something amazing and delicious.Serving meals in a foreign nation permits you to devise your dishes. This versatility also allows the food itself to develope and evolve into something greater without forgetting about the past. That is why at Grand Trunk Road, we have a blend of creative and modern dishes. I believe that our tradition should never be forgotten.


5. Give one recipe which you would like to share with our viewers and the readers.

Chef Dayashankar Sharma: There are many dishes I would like to share; Stuffed Tandoori Squid is one of the best dishes on my menu.
RECIPE NAME: Stuffed Tandoori Squid.
Baby squid:
16 pcs
Tilapia fillet: 300g
Crabmeat: 200g
Prawns: 200g
Raw mango: 100g
Mustard seeds: 10g
Curry leaves: 8-10
Chopped Ginger: 30g
Chopped Green chilli: 20g
Salt: To taste
Turmeric powder: 15g
Red chilli powder: 5g
Deggi Mirch powder: 10g
Coconut milk powder: 50g
Greek yoghurt: 100g
Vegetable oil: 50g
Mango Salsa
Mango chutney: 50g
Chopped coriander: 20g
Chopped mint: 20g
Fresh red chilli: 15g
PROCEDURE:
Wash, clean squid and drain water
Cut prawns in 4/5 pieces
Cut tilapia fillet to medium pieces
Wash, chop ginger and green chilli
Wash and chop green raw mango
Wash and cut fresh red chilli for mango salsa
Wash and chop coriander leaves and mint.

Marinade:
Heat oil in a pan; add mustard seed, chopped ginger, green chilli and turmeric. Cook it for 1 minute and keep aside to cool.
Add tempered ingredients to beaten Greek yoghurts.
Add salt and mix well.
Mango salsa:
In a bowl, mix mango chutney, raw mango, chopped coriander, chopped mint, fresh red chilli and chopped ginger.
Method:
Heat oil in a pan. When hot add mustard seeds, curry leaves. When cracked add turmeric powder, stir well and cook for 1 minute. Next, add prepared tilapia, prawn and crab meat and stir for 2 minutes. Next add red chilli powder, deggi mirch powder, salt, chopped ginger and green chilli. Let it cook for 8–10 minutes. When tilapia and prawn get cooked add coconut milk powder in it, mix well and cook for another 2 minutes and keep aside to cool.
When the above mixture is at room temperature stuff mixture in the squid.
Marinate squid with the marinade.
Place squid in a skewer and cook on a tandoor for 6-8 minutes.
Serve with mango salsa.



INTERVIEWED: Chef Dayashankar Sharma.
INTERVIEW TAKEN BY: Khatibah Rehmat
Senior Journalist and Writer.
PICTURE COURTESY: Chef Dayashankar Sharma.
EDITING DONE BY: Suniti Garg Sub—Editor.