Chef Mujeeb-Ur-Rehman
From the blood and bones of 'Khansamas' of the Nawabs of Lucknow, to a hilarious journey for being a multi-cuisine chef, is known for his extraordinarily different taste for preparing and presenting multiple dishes. A marvellous chef whose ancestors served the Nawabs of Lucknow for generation to generation but he, being born in this century where Nawabs actually does not exist as they used to be at that era, has thought of doing something really different to serve the world with his world class magical fingers. I am speaking about one of the most well-known chefs, Chef Mujeebur Rehman (you must have heard a lot about him), who has tossed vegetables and meats for several celebrities, politicians, bureaucrats, etc. Come; let me narrate a story based on absolute reality, about a family which existed somewhere around ONE HUNDRED years ago at the time of the Nawabs of Lucknow. Everyone knows that they used to live an actual king size life and kept a vast kitchen which not even a billionaire can afford today (except for few royal families worldwide). The great "Khansamas" were appointed to run these royal kitchens of Awadh. Khansama late Abdul Raheem was involved in the royal kitchen team member of Nawab Wajid Ali Shah, somewhere in the year 1850; he had spent more than 32 years supervising the kitchen, menu planning and innovation of new dishes. He was expert in rice preparations like Pulao, Chilaos, Biryani and sweet rice preparations like Mutanjan, Safeda, Sheesh Ranga, Anaar Pulaos and many more. His son Mohd Ahmed followed the same profession and brought same tradition of cooking from royal kitchen to the rich people of Lucknow and he has also spent some time in the royal Kitchen of Rampur in the period of Nawab Raza Ali Khan Bahadur from 1930 onwards. The reason behind it was to share Awadhi kitchen secrets to Rampuri kitchen. But, after the fall of the dynasty of the Nawabs of Awadh, financial conditions and social status of traditional Khansamas and cooks declined, so he quit from this profession.
Chef Mujeeb-Ur-Rehman
Chef Mujeeb-Ur-Rehman was born and brought-up in Lucknow and has explored several parts of the world, is an MBA and is crazy for flourishing his hard-core Lucknowi cuisines to the world front. Mujeeb-Ur-Rehman feels incredibly proud that he is one of the most important parts of the finest cuisines which are also recognised in the entire part of the world. Every single day he works hard to promote and spread these Nawabi cuisines to the food loving world. Let us now proceed that from where this fire came into his heart and his risen love for cooking? Many years back after the downfall of the Nawabs of Lucknow his father went to Saudi Arabia for a better earning for his family's uplift men, being an electrical engineer he managed a presentable job for himself. Since then, little Mujeeb-Ur-Rehman became very close to his grandfather who used to tell great stories of the royal kitchen of Nawab's palate, their hyper sensitivity and passion towards Lucknowi or Awadhi cuisines. From there it worked like a hammer theory to him and after completing his studies, he started his career as a traditional chef for the same. Later, he worked as a local caterer for four to five years but, somewhere he was unsatisfied with whatever he was doing. Chef was more worried about promoting his rich legacy to all parts of India, so almost fifteen years back he began his food consultancy and started conducting food festivals and catering with several five star hotels round the nation. This time chef was actually satisfied with his work and appreciations and he was even honoured for the same, which resulted in his association with international hotel chains in India. Now, chef Mujeeb-Ur-Rehman is working with five to six legendary cuisines of our great India, such as; North-West frontier, Kashmiri, Mughlai, Awadhi, Rampuri and Hyderabadi.
Authentic way of preparing Lucknowi/Awadhi cuisine.
He has a very vast variety of list of food which he prepares but, here will name few, such as; Shorbe, Kababs, Curry, Pulao, Roties, Desserts, Yakhni Gosht Shorba, Paya Shorba, Murgh Sultani Shorba, Bhune Badam Chilgoze Ka Shorba, Galawati Kebab, Barrah Kebab, Mahi Dum Kebab, Murgh Tikka Mirza Hasnu, Nahari Gosht, Kundan Kaliyan, Aloo Gosht, Lagan Ka Murgh, Awadhi Murgh Korma, Yakhni Gosht Pulao, Murgh Deg Pulao, Sabziyon Ki Tahiri, Methi Pulao, Lazeez Aloo Katli, Daal Ka Bhurta, Paneer Mast Zaiqa, Paneer Khageena, Sheermal, Awadhi Naan, Baqarkhani, Kheer, Chukander-E-Afroz, Sheer Khurma and many more. Just because of his recognitions, till the date he has travelled at least fifteen to twenty countries and in few hotel chains he works as a consultant and few hotel management institutes keep on inviting him to organize workshops for their students. One very hilarious thing chef told me, by which I was really puzzled was about vegetarian dishes which were originated by the Muslims, as everyone knows that they are basically known for non-vegetarian cuisines only, this was the very first time I came to know about it. Let us know what are they? Subz Galawati, Mutter Ke Kebab, Aloo Neze Se, Aatishi Khum, Zafrani Paneer Korma, Aloo Katli, Shaljam Zafrani, Nawabi Baigan Bhurta, Gucchi Zafrani Korma, Kaddu Korma, Mutter Badam Pulao, Methi Ke Khichri and Subziyon Ke Tahiri. Chef Mujeeb-Ur-Rehman also gave light on i) a royal banquet in the regime of Nawab Nasiruddin Haider (Awadh Dynasty); The Mewa Khichri was introduced, where in place of rice, the khansamas carved rice from peeled almonds and moong dal from pistachio. ii) He added that during the regime of Begum Hazrat Mahal in Awadh, who was known as the mother for introducing Shahi Tukra and BALAI KE TUKRE. For Balai ke Tukre, they remove Balai from milk and put it into a long tray, and then take next Balai layer from milk and put stack on the same tray, the process continues till it used to become 1" in height, it was a layered Balai then cut into pieces and then fry like one does with sandwich bread now a days in making Shahi Tukra. iii) Almost 30 years back in a Rampur Nawab wedding, Rasawal was made, a rice dish which is simmered with cane juice, this was taken from a special silver metal roller machine, to retain the whiteness of cane juice.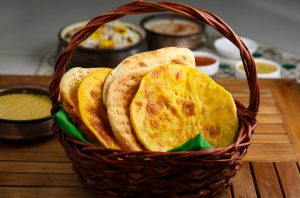 Sheermaal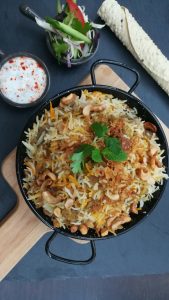 Chicken Biryani
Catering royal weddings of India has always given a wonderful experience to Chef Mujeeb-Ur-Rehman and also to his overall work in food industry. He told REFT that in India over 40% population is vegetarian and if one wants to popularize a cuisine, he or she has to think about them first, chef even told about his cooking techniques which are very much different from others, basic ingredients are different so he has evolved and established vegetarian food and also got great response to his vegetarian cuisines. Even in few years he has done several elite class weddings in Rome and Paris where Mujeeb-Ur-Rehman was invited just to prepare vegetarian food. If you have to know more about chef Mujeeb-Ur-Rehman or have to taste his authentic preparations of Lucknowi/Awadhi cuisines, you may visit his outlet "AFREEN" in Lucknow.
INTERVIEW TAKEN BY: Khatibah Rehmat.
INTERVIEWED: Chef Mujeeb-Ur-Rehman
PICTURE COUTESY: Chef Mujeeb-Ur-Rehman